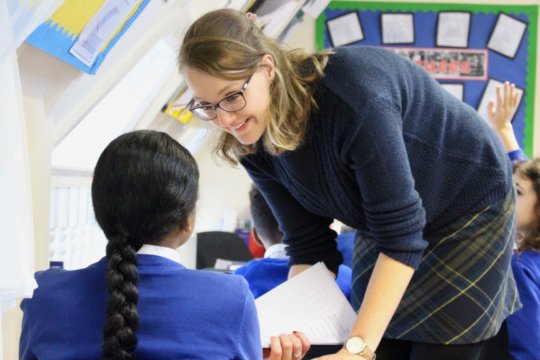 Sharon van Dijk "At this young age they are so excited by everything"
Teacher, Sharon van Dijk (25), talks about her teaching day in two London schools for the Latin Programme, her fascinating research cataloguing Latin poetry and why The Latin Programme stands out.
'I have a really early start on my teaching days. I'm up by 6am so that I have time to pack my things, eat some cereal, drink some tea and make my lunch. I have a long commute from Hertford where I live, changing onto the underground at Finsbury Park and on into Victoria, Central London where both my schools are based. I use the commuting time to read and prepare for the day ahead.I arrive around 8.30 at my first school in time to prepare my resources. I teach one year six class at 9am and two year three classes during the morning. In the afternoon I teach two mixed year four and five classes at another local primary school.
Before becoming a Latin Programme teacher in 2016, I previously taught Latin in secondary schools. The Latin Programme has a very different approach to language learning. Latin Programme pupils get up off their seats a lot more, using kinesthetic techniques to learn new material and there are more games and songs too. My favourite game is 'magistra dicit' (Simon says in Latin). The focus is also much more firmly on the structure of language at The Latin Programme. For example, I wouldn't usually have covered all the Latin noun cases and their functions until Year 9 in my secondary school teaching. At the Latin Programme we are introducing this in Year 4!
The other aspect of the Latin Programme that I love is working with primary school children. At this young age they are so excited by everything. They have their own favourite verbs, like 'necare' (to kill) or 'ambulare' (to walk), and they love the challenge of learning a new language in depth. We've enjoyed looking for Latin inscriptions on (old) pound coins, and learning Latin football mottos.
I think that the Latin Programme faces a big challenge surviving all the cuts to school funding at the moment. I hope that more schools can still offer The Latin Programme to pupils despite this.
My teaching day finishes at 3.30pm and I usually arrive home in Hertford by 5pm, in time to eat and then head on to choir practice. Beyond singing, I also like horse riding and I play the guitar. I've even developed a few new songs for The Latin Programme – like the 'sum es est' song which are now being taught in schools across London.
On the days that I am not teaching, I am studying for a PhD as part of a research team led by Dr Victoria Moul at King's College London. The title of our research, which is funded by the Leverhulme Trust, is 'Latin Verse in English Manuscript Verse Miscellanies, 1550-1700'. This involves working with original manuscripts in archives across the UK. We are looking at neo-Latin verse (written in the early modern period) in miscellanies (collections of pieces of writing by different authors). Some of the poetry has been written by school children in the days when Latin was the language of education from when a child began school at age 8 right up until they left university. Some of the poetry I've seen is by well-known English authors like Milton who wrote in Latin to appeal to a wider international audience. Sometimes I come across beautifully illustrated poems to commemorate a king or queen and even figure poems -poems written in the shape of something. It is so exciting to discover unknown work and catalogue it for readers of the future.
My research really demonstrates how fundamental Latin was to the development of British education and to the development of the English language. It is wonderful that our Latin Programme pupils are contributing to that second life of Latin in schools themselves and in doing so are developing a deeper understanding of English.'
This week I've been…
Reading Blair Worden The English Civil Wars 1640-1660 as background reading for my PhD.
Listening to Christmas carols and Christmas songs.
Watching the BBC series Dickensian on Netflix.