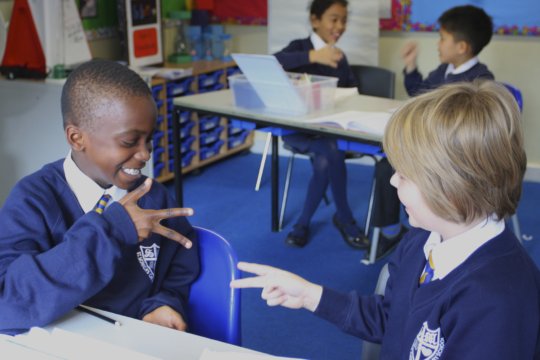 Under a new formula designed to distribute school funding more fairly across England, schools in London are set to lose out. Those in Hackney, Camden, Lambeth and Lewisham will suffer the deepest losses, losing 2.8% of their funds, while those in Southwark, Haringey and Tower Hamlets will give up 2.7%, according to figures compiled by London Council.[1]
While 2.8% may not seem like much, these cuts come on top of a £3 billion cut to schools across the country. This is equivalent to an 8% loss in real terms, meaning that many inner-city London schools are looking at a loss of over 10% of their operating budgets. Some schools are even asking parents to donate money [2] and "essential" items such as toilet roll and tissues.[3]
The cuts to schools will disproportionately impact already vulnerable children. Boroughs like Hackney, Tower Hamlets and Islington, where The Latin Programme works, have elevated crime rates, poorer-quality housing and a higher incidence of child poverty. In fact, 50% of children in Hackney and Islington are living in poverty and almost 60% in Camden come from low-income families.[4]
Studies show that children from poorer backgrounds lag at all stages of education:
"By the age of three, poorer children are estimated to be, on average, nine months behind children from more wealthy backgrounds and according to Department for Education statistics, by the end of primary school, pupils receiving free school meals are estimated to be almost three terms behind their more affluent peers.[5] By the time they reach 14, this gap has grown to over five terms and by 16, children receiving free school meals achieve 1.7 grades lower at GCSE."[6]
The research evidence is clear: educational failure is strongly associated with the process of social exclusion.[7] However, The Latin Programme has demonstrated that this link can be weakened. The Programme increases children's literacy levels[8], a recognised cornerstone of social mobility and the foundation for educational attainment and, ultimately, access to employment.
We know that children from low-income families have to forgo experiences that most of us would take for granted.[9] For example, many of these youngsters miss out on school trips; can't invite friends around; and often never holiday away from home. Because The Latin Programme is taught during school hours as an established part of the curriculum, all children can benefit, not just those who can afford extra-curricular activities, or whose parents are able to devote more time and attention to their progress. [10] However, the funding cuts currently proposed are threatening to undermine—if not wipe out—these proven equalisers.
We rely on schools to contribute to the cost of having The Latin Programme in their classrooms, yet an increasing number are no longer able to afford any contribution at all. We are therefore writing to ask for your support.
Please consider donating to help us to continue to give inner-city children the best shot at the future they deserve.
[1] See:https://www.ft.com/content/d2cbd874-f761-11e6-9516-2d969e0d3b65
[2] See:http://schoolsweek.co.uk/over-a-third-of-parents-asked-for-school-donations-survey-finds/
[3] See:http://www.kentlive.news/an-east-sussex-primary-school-facing-funding-issues-has-asked-parents-to-provide-toilet-rolls/story-30233428-detail/story.html#DYGslY0KTl1J72Ky.99
[4] See:http://www.leafletdistributionteam.co.uk/top-10-poorest-places-london/
[5] See:http://www.education.gov.uk/rsgateway/DB/SFR/s000977/index.shtml
[6] See:http://cpag.org.uk/content/impact-poverty
[7] See:http://www.literacytrust.org.uk/assets/0000/0947/Every_which_way.pdf
[8] See:http://www.thelatinprogramme.co.uk/benefits-impact/
[9] See:http://cpag.org.uk/content/impact-poverty
[10] See:http://www.literacytrust.org.uk/assets/0001/7863/Lost_for_Words_-_child_poverty_policy_paper.pdf
Attachments: