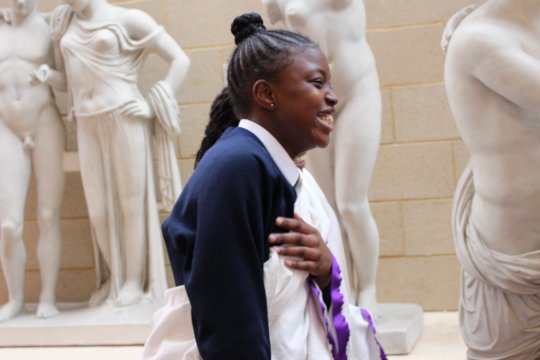 High Ability pupils are among the most disadvantaged children we teach at The Latin Programme.
One of the biggest challenges that The Latin Programme meets every week is delivering lessons to support the most able students in our inner-city classrooms.
Since day one, The Latin Programme's innovative approach to improving literacy in schools has offered a welcome challenge to gifted pupils without alienating the less able learners in the classroom. This article is all about why the Latin Programme will remain true to its whole-class approach to teaching, whilst also meeting the needs of every pupil, including those who show great academic promise.
According to the UK schools' inspectorate, OFSTED, high ability pupils often tend to underperform in non-selective state schools like the ones we teach in. Sir Peter Lapl argues in a July 2018 report for the Sutton Trust that we are 'experiencing an extended crisis of social mobility in our schools'. He argues that 'too many talented young people from less well-off backgrounds are falling behind during their school career, as the barriers they face take a toll' (p.1).
According to the report Potential for Success (2018), children from disadvantaged backgrounds are less likely to be in the top 10% for attainment in English and maths at the end of primary school. Indeed, only 4% of less well-off pupils have high attainment at Key Stage 2 (the end of Elementary school in the UK), compared to 13% of non-disadvantaged pupils.
Furthermore, many highly able pupils are not even being identified as high attaining in the first place. The numbers are incredibly small for high-achieving children in non-selective state schools, particularly those from disadvantaged backgrounds. There may only be one or two of these pupils in a class, and teachers are sometimes not even aware of pupils' promising track record.
The most able pose a real challenge for teachers. In a typical class of 30 pupils, in which the majority of pupils are underachieving or of average attainment, teachers tend to focus on meeting the needs of the majority. School leadership, on the other hand, will often put their already-limited financial resources (especially their pupil premium funds) into boosting attainment amongst the lowest attaining children in the class, or into supporting those pupils with special educational needs.
The Latin Programme is aiming to tackle this issue on a number of levels. Several reports by the schools inspectorate OFSTED and the Sutton Trust have identified targeted interventions that are inclusive as one of the key ways of supporting pupils to achieve their best. Our inclusive and targeted literacy intervention does just that.
From day one, well-meaning schools have asked whether we could deliver the Latin Programme just to the high ability pupils. We have always said no. A Latin Programme lesson will always have elements that are accessible to all learners, even those with special needs. These include games like 'magistra dicit' (Simon Says in Latin) or mock gladiator trials, aimed at engaging children's imaginations, and allowing them to learn from each other whilst still having fun. Other inclusive tasks include songs and raps. We always support grammar learning with accompanying hand gestures or rhythmic exercises, even adapted nursery-rhymes. The in-built differentiation within the Programme is also supported by our no-textbook approach. For us, focused tasks need to be tailored not only to the needs of the class, but to allow individual children to take ownership of their learning and decide whether to master the most basic level of task or to challenge themselves to attempt a higher-level activity that accelerates their learning within and beyond the lesson's learning objective.
The children we teach at the Latin Programme, who are aged between seven and eleven years, are simply too young for a one size fits all approach. Furthermore, Latin often reveals hidden talents in learners, demonstrating their underlying potential for working with patterns, their metalinguistic skills and their ability to absorb and benefit from cross-curricular content and think about cultural/historical connections that are thousands of years old.
Latin class is often a fresh start for learners. Those who speak English as an additional language find themselves on a level playing field with their peers for the first time. It is these children, in particular, that gain a lot from working with a less-familiar teacher with high expectations of what they can achieve. Our pupils continue to develop academic confidence and ambition over the four years of the Programme. Surely everyone deserves this chance?
This 2018-19 academic year we have introduced even more ways to support pupils with high potential to flourish. Firstly, Teaching and Learning Director, Jonathan Goddard has transformed the way in which we share resources across our teaching team. This means that teachers can quickly identify a number of suitable ways to work towards a single lesson objective, with options available for every ability level and to support diverse styles of learning. All classes have built-in stretcher activities and children can choose to take on these further challenges of their own accord, rather than being prompted to do so by their teacher.
We have also, this year, reworked our assessment framework to monitor, more closely, the progress that all learners are making over the course of each year and identify students' unique talents early on. The new assessments build on the SHINE model developed in 2013 to monitor our pupils' actual achievement against their expected progress. The new framework tracks progress in literacy and Latin and allows us to monitor attainment alongside other factors, such as the level of disadvantage that the pupil faces. We also hope to be taking part in a study led by the University of Essex assessing the metalinguistic benefits of studying Latin this Autumn.
Finally, at Holy Trinity NW3, one of the newest schools to come on board with the Programme, we have pioneered the 'University Ambitions' project, an extra-curricular literacy booster for those pupils who are identified both as high ability and facing significant disadvantage, to ensure that we are doing everything we can to accelerate progress for the most able students who face other challenges. This also links in with our annual Year 6 trips to the University of Cambridge where students get a taste of university-style learning with an academic lecture led by the Classics Department, lunch in a Cambridge college, and a chance to meet students and ask questions about going to university.
The Latin Programme is continuing, even in the face of deep cuts to school funding, to value and nurture the needs of all of its young minds. Please help us to continue doing so.
This month at the Latin Programme we're…
Developing a new course called "How Languages Work" for Key Stage 3 (for pupils aged 11-14years) introducing pupils to linguistics, with Latin and English as our case-study languages. The Programme will be delivered by Tutors from the National Charity The Brilliant Club next summer.
Completing the last edits on the AENEAS PROJECT FILM.
This was our rap/film/animation version of the Aeneid, Virgil's epic poem shot this summer in 10 primary schools across London and involving over 200 or more 9-11-year-olds. We're also working to confirm a cinema screening for pupils to attend with their schools later this year. Our working title is 'AENEAS 18'. What do you think? Submit your thoughts to info@thelatinprogramme.co.uk
Working towards amalgamating all of our YouTube rap resources and aiming to share our teaching resources more widely on our new website. Have you visited it yet?