This autumn, our centres were colourful, animated and full of excitement as we celebrated our fifth annual Book Week from November 17th to November 22nd 2014. Our Book Week is dedicated to make reading a pleasure, encourages our children to explore books other than school texts and kindles in our children a lifelong love of books.
The theme for this year's Book Week was "In the World of Animals" (Praniyon Ke Sangh),so all stories and activities during the week centred on different types of animals.
Preparation and Planning
Classroom schedules and activities were planned ahead of time and our teachers underwent training workshops to ensure that Book Week went smoothly. Books for gifting the children and new books for release were procured and distributed to the centres beforehand. At the centres, both children and teachers put up placards, posters and banners announcing the Book Week's activities.
In order to set a tone of excitement for the week, children and teachers paraded around the construction sites with handmade posters, while chanting slogans and singing. This ceremonial ritual, also called the 'Prabhat Pheri' (a morning rally of sorts), is an important part of the schedule because it heralds the start of Book Week. This year, the rally took place on the 14th of November on the occasion of Children's Day announcing the coming of the Book Week. At many centres children were dressed like Jawaharlal Nehru, the first Prime Minister of India, whose birthday is also celebrated as Children's Day.
A formal inauguration followed this parade at the centres. Special guests were invited to participate and witness the opening ceremonies. Site supervisors, government school principals and teachers were invited. A lamp was lit to mark the beginning of Book Week and a number of new children's books were introduced to the community, one of which was read aloud at the ceremony. The guests went on to share their personal experiences with books, libraries and stories.
Children explored books by examining the books' characters and vocabulary and designing new cover pages and content for the books. They came up with their own sequels of stories or imagined how the characters of two different stories would meet, coming up with a new story of their own by the end of the week.
Here are some of the activities the children enjoyed during Book Week:
Animal Charts and Maps: In this activity session, the children were asked to write down different things about the animals which were the central characters of the stories, such as their behaviour, names, physical features, etc. The children were given cutouts of the world map and asked to place the animals in the countries in which they are found. This also helped them learn about the countries around the world in an interesting manner. The teacher guided the students to identify the countries and place the animals correctly.
Bookmark Making: This was one of our children's favourite activities. They prepared bookmarks sporting different animal faces, coloured and decorated beautifully, and displayed them at the centres. They were thrilled to take the bookmarks home to show off their hard work and creativity to their parents.
Newspaper Reading: Two newspapers, one in the national language of Hindi and the other one in a regional language, were brought in each day of Book Week. The children used the newspapers for reading and reviewing articles during class hours and later in the evening move on to play an important role within the community. In the evenings, two or three children at each centre volunteered to read the newspapers to the community.
Phirti Library(Mobile Library): During Book Week, our Phirti Library travelled directly to the homes of community members. Two or more nominated children issued and returned books, going door to door in the community.
Mujhe Padkar Sunao("Read to Me"):This programme drew a large number of participants from the community, as each child was paired with an adult. Younger children were read a book by a community member, while older children showed off their skills by reading to the adults. At one of our centres, parents exclaimed, "Ab kitabe padna achchaa lagta hai!" (Now we started enjoying reading).
D.E.A.R. (Drop Everything and Read): This programme, which is held every day in our Balwadi (pre-primary) classroom for 15 minutes, was a key component of Book Week. All children were given time to choose their own books and read them either quietly or aloud to each other. This encouraged children to explore their interests and gave them an opportunity to identify the kinds of books they like.
Field Trips:These outings gave children a greater exposure to the world of reading around them. MMC children visited nearby government schools and read aloud a story book. They also participated in a child-to-child activity, during which MMC children read a story for private school children and in turn private school children shared their favourite story with our children.
The last day of Book Week held a surprise for our children. Each child at the centres received a gift – a story book to take back home.They were all overjoyed to have their very own colourful books, a rare opportunity for most of them. It was the perfect ending to our wonderful Book Week,which made reading a joyful experience for our children!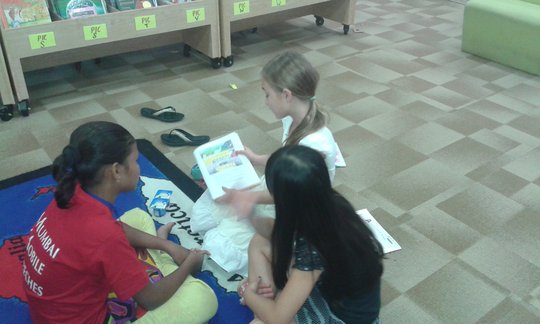 Links: