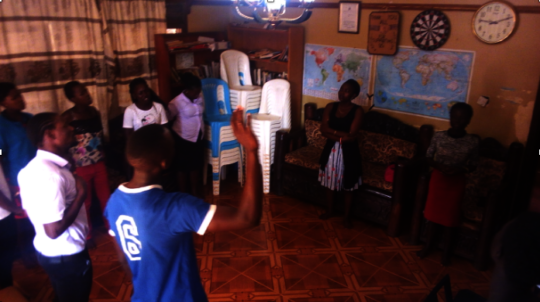 HALO provides the foundation of a family for children without one. We provide housing, healing and education to over 1,400 homeless and at-risk children all over the world. Our mission is to help one more child spend one less day alone. When kids rediscover their value and embrace their potential, it puts them on a path to becoming contributing members of their community.
In 2016, HALO launched the Uganda Learning Center and serves more than 200 youth monthly. This is a collaborative space for at-risk, orphaned, and homeless Ugandan youth to gather, learn, teach, grow and flourish. As Uganda continues to develop and advance as a country, our youth increasingly experience issues similar to those of American inner city youth. We have seen through our programming for youth in the U.S. that after school programming centers can make all the difference for a child. The Uganda Learning Center serves as a place for our youth to explore their passions, become engaged in safe and fun activities and to serve as a hub to provide education and certification programs. It has become an essential component to our programming and a place where our youth can be, belong and become. Check out the Uganda Learning Center Tour: https://www.youtube.com/watch?v=bMnKbvq9JnE.
We currently provide certifications in Cosmetology (Hair Dressing and Beauty) and Fashion Design. Meet Ruth, Uganda Learning Center Salon Trainer: https://www.youtube.com/watch?v=IhnBpCOlmdc
In addition, we offer workshops/classes taught by volunteers such as health, computer education, tutoring, arts and crafts, tailoring, baking, sports, music, dance, and drama. Other hands-on activities include making liquid/bar soap, shampoo, books, candles, and paint. Talent shows, performances and movie nights also take place.
The Uganda Learning Center currently supports about 140 youth each month from HALO supported Uganda Homes, 15 resettled youth who were formerly living in a HALO Home and 50 youth from the surrounding communities.
Thank you for your support!