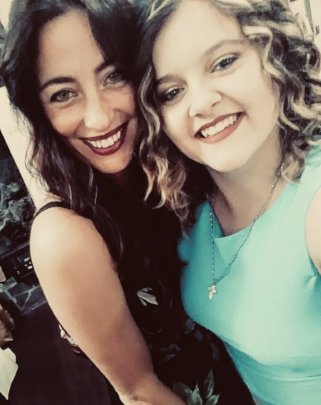 Recently, we did a special interview with HALO Alum Caylin who graduated from the HALO Home. This interview was in conjunction with Moroccanoil and had to share her story. It's the reason we do what we do every day, and why it's so important to invest in our kids.
Q&A
Tell us about yourself. Where do you live?
My name is Caylin, and I am from Jefferson City, Missouri. I had a child at the age of 15, and even though I was young it was the best thing that had ever happened to me. I graduated with my high school diploma at age 16, and I am now in my second year of college. Additionally, I am engaged to a man who supports me as a independent woman and drives me to reach my goals.
What does an average day for you look like?
An average day for me starts with getting my six-year-old ready for kindergarten. I currently work at Target part-time, then I spend my evening hanging out with my fiancé and getting school work done. Even though I have a busy life, I feel I am slowly setting up an amazing foundation for our future.
How did you find out about the HALO Foundation? How has it changed your life?
I found out about the HALO Foundation through the school I was attending. Since I was a single mother, they knew the HALO Foundation was right for me and suggested it through a program called teens as parents. HALO has changed my life in so many different ways. They gave me the support I needed and taught me how to be a responsible adult. HALO also taught me what family was and what it meant.
What would you tell someone facing the same challenges?
If someone was facing the same challenges as I was I would tell them to never give up on themselves. Even though they may think that having a child at a young age affects their opportunities and privileges, it doesn't have to. We may have made mistakes in our past, but that doesn't mean we can't follow our dreams and become whatever we want to be.
What challenge are you most proud of overcoming?
I am most proud of the amazing child I created and defeating the odds against young single mothers. I have fought so hard to give my daughter the best life I could possibly give her, and I have reached that goal. It makes me grateful I have had that opportunity through the HALO Foundation.
Where do you see yourself in five years?
In the near future, I see myself as a college graduate with a proud family beside me. I see myself as a leader and someone other single parents can look up to and admire. I want to be a role model to other people who think they can't overcome mistakes they made as a child. They should understand that it's not their fault and that with the right support and motivation they can do whatever they want to do.
Thank you for supporting kids like Caylin. You make success stories like these possible.