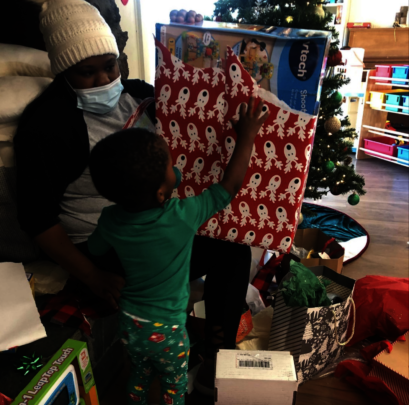 For our HALO kids, the holidays have usually been associated with pain and frustration. We hope that by creating fun holiday traditions, our youth have a positive experience during the holidays and the opportunity to pass down these traditions to their children one day. This holiday season, we were able to create some great memories thanks to you.
Here are some of our new traditions:
1. We wanted to be sure that our kids had a warm meal for Thanksgiving even if we couldn't all be in the same room this year. Thanks to our amazing volunteers of the month, the Kansas City Advocate Board, Sweet Smoke BBQ, and Hy-Vee, we were able to make sure all our kids got a warm meal and know just how loved they are.
2. We hope that creating small happy moments like decorating sugar cookies together will show them that the holiday season can be filled with love. Our learning centers also held several other holiday activities, like decorating cards, doing a scavenger hunt, and gingerbread decorating.
3. This season, the youth at the Jefferson City programs got into the holiday spirit by doing different activities each night. One of the weeks, they made Oreo Snowman Cookies and turned paper bags into snowflakes.
4. The opportunity to give a gift to someone they love, has been rare for our youth. This year, we were able to take our youth shopping for them to pick out a gift for someone they loved, and they learned how to wrap them on their own to provide that special touch to their gift.
Thank you for supporting our HALO youth this year and giving them the chance to be kids. Without you, it wouldn't feel like the holidays or home.