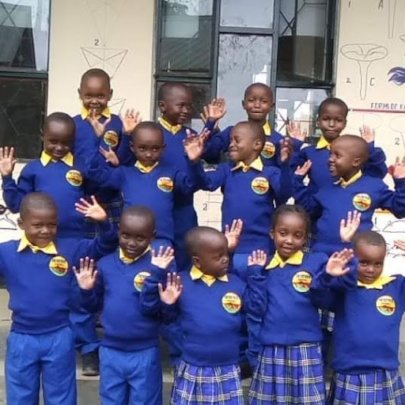 Dear supporters,
As I write this, Ikirwa students and staff are enjoying a well-deserved mid-year break. Their dedication and hard work never seize to humble me. The results they deliver in-spite of the daily challenges that seem to come from every corner, are nothing short of amazing.
This year, climate change continued to disrupt our daily commutes with deluges and flooded roads. There were many days when day students had to walk the last up-hill kilometer to school because the road became impassible. Teachers and older boys helped carry the little ones.
Yet there were plenty of joyful moments even in the hardest of days. All students finally got uniforms dsiplaying the school logo. A sponsor's gift allowed one girl and one boy to share their birthday with their whole class, as well as a (first for many) birthday cake. The kids agreed that they could eat cake every day, but birthday hats can choke you.
Each milestone Ikirwa School advances to, is an unchartered territory for us, its founders. Because we could not have found ourselves here without the support of our grassroots donor community, we have the responsibility to remain accountable for the results and failures of this experimental journey to build something different. Which is why it means so much to receive validation that years of effort do bring the results we hope to achieve and that our mission is carrying us forward. At the end of March, our 7th graders took a trial exam. When results came out, Ikriwa School students took the first 10 spots out 228 kids tested. It is wonderful to see that the first 2 places went to our girls. An equally wonderful to see that three out of ten are our very first Ikirwa Scholars.
With so many conversations taking place in the Western world about what we must do to raise resilient children, I am reminded of a quote by Steve Maraboli :
"Life doesn't get easier or more forgiving, we get stronger and more resilient"
As I watch our first class get ready to leave the school and go off into the big world full of dangers and possibilities, I am confident that these kids have what it takes to carry out the mission of Ikirwa School, as should you, our dear supporters, for your investment has born fruit beyond our wildest dreams. What you imagine you become.