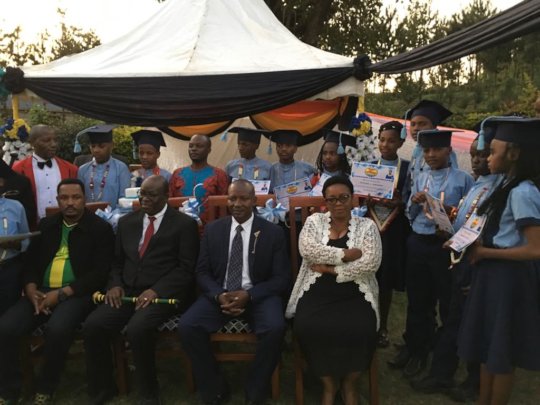 Dear Ikirwa School Project supporter,
Greetings from the foothills of Mt. Meru, where just 24 hours ago, in a ceremony attended by 350 people, including the MP for Arumeru District as a guest of honor, we have handed out diplomas to the first Ikirwa Primary School graduates. Among them, were 4 students who could not have attended this school and reached this milestone without the help of our donor community. In liew of the formal report here is a speech that I have prepared for this momentous occasion. Thank you from the bottom of our heart.
Dear students, parents, teachers, staff and distinguished guests,
Welcome, and thank you for joining us on this very special day. I am very sorry that I can't be here in person, but my heart and mind are with you right now.
In January of 2012 we opened this school with a very simple goal – to give our students a world-class education and teach them not to be afraid of having big dreams. Our graduates today are roof that our goal is not out of reach. Graduates, most of you, were here when we first opened our doors, and if you heard this speech then, you probably wouldn't have understood any of it. Today you are confident young women and men, who know what it means to have a goal and how to work hard to achieve it. Among you are future doctors, engineers, pilots, accountants and entrepreneurs. You are the future leaders of this nation and the of the world. You make us very proud. So what advice could I give you as you, our first born, leave Ikirwa.
First - never stop learning. Education doesn't stop when you get your diploma. It doesn't stop after you finish college or university either. You're not going to get very far in life based on what you already know. You're going to advance in life by what you're going to learn after you leave here. Wisdom acquisition is a moral duty. It's not just something you do to advance in life. It's a moral duty because it's only through continuous learning that we can add to the vast knowledge of mankind. If we stopped learning, progress in all industries—computers, finance, engineering, biology, stops as well.
Second – be kind. Never forget that we touch other people's lives simply by existing. The effect that you have on others is the most valuable currency there is. A mentor once told me – it's people who will lift you to the top.
Third – work hard. But don't do things just for the money. If you didn't get the money, then you wouldn't have anything. But if you do work that you're proud of and don't get the money, then at
least you'll have your work. Everything material you gain in life – money, power, possessions - will go away, and all that will be left of you is what was in your heart and what you shared with others.
Fourth - you must have some kind of vision for your life, even if you don't know the plan. You have to have a direction in which you choose to go. That direction may change, but you always must have one even if it's anchored to an audacious dream. That dream will be your guiding light as you make mistakes and build yourself back up from the inevitable failures. Never give up on it.
And finally - failure is inevitable, so accept it and learn from it. Failure is part of life, it's part of every career, and you have to know how to take advantage of it. So learn from your mistakes and use them as a building block to your next success. It is the hard days, the days that challenge you to our very core that will determine who you are. And I hope you'll make mistakes because it means you're out there doing something, and making the world more interesting for your having existed.
To sum it up: work hard, be kind, and amazing things will happen.
So, as you begin on this journey of a lifetime, don't forget what you have learned within these walls:
Don't ever forget that you're a citizen of this world, and there are things you can do to lift the human spirit, things that are easy, things that are free, things that you can do every day: civility, respect, kindness, character. You're too good for taking joy in misfortune of others, you're too good for gossip, you're too good for intolerance and you're too good to think people who disagree with you are your enemy.
Don't ever forget that a small group of thoughtful people can change the world. It's the only thing that ever has.
Don't forget the motto of your alma mater, Ikirwa School:
What you think you create
What you feel you attract
What you imagine you become.
SIncerely,
Masha Skuratovskaya