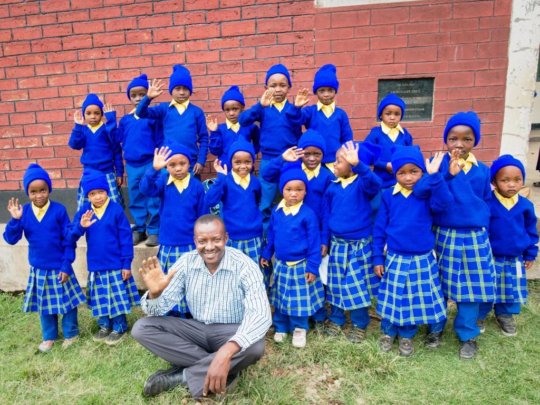 When Gasper Mbise and I conceived the Ikirwa School Project, we envisioned it as a venture that could run with minimal public support. Neither of us had experience or was comfortable with fundraising. Our business plan had at its heart a formula whereby if our classrooms were filled to capacity, we would be able to cover full operational expenses of the school from tuition revenues and offer 20% of our spots to families that cannot afford to pay.
Reality rarely turns out the way you lay it out on paper. A new school, with no track record cannot expect to reach capacity immediately. While convincing parents to commit their funds and children's future to an unproven institution has been slow, we have had no trouble building a wait list of perspective students waiting for financial assistance.
Late in 2016 we have realized that some of the kids on that list have been on that list for 3 years and that while we wait for reality to catch up with the economics of our business plan, these children are missing out on education that could propel them out of poverty. This is how this campaign came about, we simply could not stand by and watch another generation of village children grow up without the tools to suceed in the modern world. Because of our shared vision and through your generosity we have filled the spare capacity at Ikirwa School by offering most vulnerable children in the Midawe community a chance to receive and excellent education and grow out of poverty.
Most of the kids who received scholarships funded by this campaign live nearby and are known well by the school staff. A few used to come on campus after classes have already let out, peeking into building windows and asking our night watchman to let them in so that they can look at the books. Welcoming them on January 9th as Ikirwa students was a very special moment. As of today 11 girls and 6 boys, ages 4 to 8 have joined Ikirwa as new student. Two more girls, age 11, of exceptional academic aptitude, were able to continue their studies after their families could no longer afford to pay for their education.
The funds we have raised so far are sufficient to cover their tuition and meals through the end of the first term.
Throughout this year we will keep you updated on the academic progress of the kids sponsored by this campaign, their achievements and how their lives have changed since they joined our school . As of right now we can tell you that they are loving their new uniforms.
Thank you from the bottom of our hearts,
Maria Skuratovskaya, on behalf of the board and staff of the Ikirwa School and Ikirwa School Project