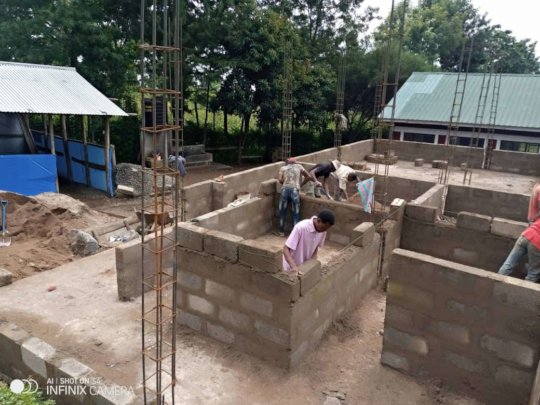 Dear Friends,
We are truly thankful for the outpouring of generosity that we have received over the last several months. It is with great joy that we write to you about the impact of your donations. We are thrilled with the progress that has been made on the construction of our new dining facility. Layers of brick and cinder block continue to grow daily. We have had a great deal of rain lately and though it has slowed some of our momentum there isn't a day that goes by that we can't look out our classroom windows and see the headway being made. There are walls! It is no longer just a foundation, but a true structure. The attached photos represent the lower level of the building where the academic office, assistant academic office and two additional classrooms, as well, a beautiful library and storage area will be housed. The excitement on campus is palpable.
It never ceases to amaze us how talented and supportive members of our local community. Their skills in construction and attention to detail allow us to be confident knowing that our dining hall will not only be a structure we will be proud of, but one that will last for many years to come. The goal of feeding 200 students two nutritious meals a day, in a kitchen that will support the ever growing population, seemed only a dream at the start of 2019, but now as we enter 2020 those dreams are coming to fruition. Your continued support of our mission is deeply gratifying to us and we hope it is the same for you.
For a school that started as a wish and later as a conversation over a campfire and grew one classroom at a time, we feel blessed. Our commitment to the families of the Madawe community and surrounding villages continues to be our number one priority. You have truly helped to make a difference for the students at Ikirwa School and for that we are extremely grateful. Please feel free to contact us if you have any specific questions, we would love the opportunity to speak to you and say ahsante sana again!
With deepest gratitude and warmest wishes.
Rose Hogan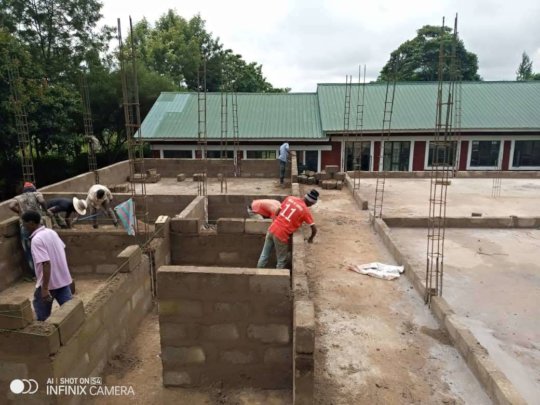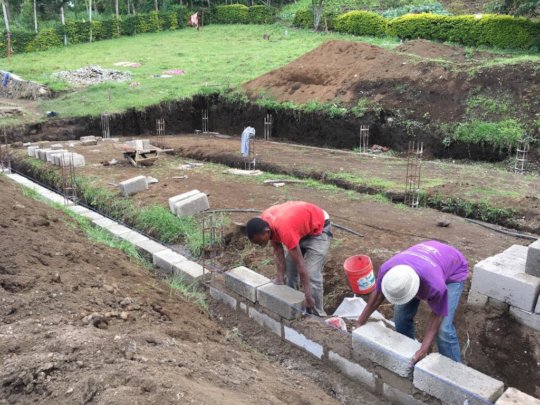 Greetings from Midawe, our dearest Ikirwa School Project supporters As you read this, Ikirwa students are busy with !their final exams while the staff are wrapping up another hectic but successful year, our 7th in operation. With it we bring the end to this 2018-2019 Ikirwa Scholar fundraising campaign, before we turn our attention to 2020 next week.
Later this week, all across the USA, people will sit at their tables surrounded by family and friends and remember things they are thankful for. As children, our students receive the gifts of love and care from their parents, knowledge from their teachers and support from our global community. What they can give back, even at their young age is gratitude. At Ikirwa, giving thanks is a daily practice. Every day we thank the community of our Global Giving supporters who for the past four years have given twenty of our students a chance to receive excellent education in a nurturing environment and disrupt the cycle of poverty that has confined their families for generations.
In our last newsletter we shared with you the joy of seen our first born class graduate. Then in mid-October came the results of national exams. Our kids ranked 3rd out of 40 schools in Arusha, 7th out of 322 school in the region and 89th out of 7102 schools nationally. We couldn't be more proud of them and also relieved. Relived that the first serious test has we faced has demonstrated that we are living up to our mission of delivering world class education in a place where that is not an option for most.
We are happy to see that the first four graduates from the Ikirwa Scholars program will be going on to top secondary schools in January. Next year, their place will be taken by four other deserving children, whos education, we hope, you will continue to support. As for us, we will continue to strive to give them the good education and open their minds to the world of possibilities.
Thank you for your continued support.
Asante Sana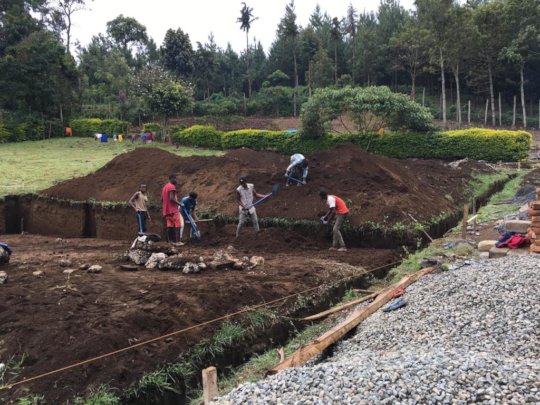 Greetings from Midawe our dear supporters,
It has been 3 months since we launched this fundraising effort and what has happened since was a chain of miracles. In the past, the classrooms were built mainly through the support of a few overseas donors. The dining-hall project heralds the first time that we have been able to bring in local support as well both monetary and in-kind. It will also be the first two story building on our campus, which brings a whole new set of complexities to the construction.
When we say that our school was built brick by brick with grass roots support, I am not mixing words. Half of the donations we have received so far have been piles of bricks and bags of cement. Which means that work has started. The MP for Arumeru Region, donated 100 bags of cement and set the foundation stone during our first graduation ceremony. The foundation has been dug, rebar for the second story supports has been set, concrete poured and walls have begun to go up.
In addition to the local community, every volunteer that has come on campus has contributed to the construction to the best of their means, purchasing supplies and making donations. And then there is all the help we have received from you, our dear Global Giving supporters. Brick by brick may not be the fastest pace to raise a building, but the walls we are building are strong, held together with more than mortar and cement. The strength of your friendship and commitment to our school and its students make for the stoutest bonds indeed,
From all of us at Ikirwa School Project,
Asante Santa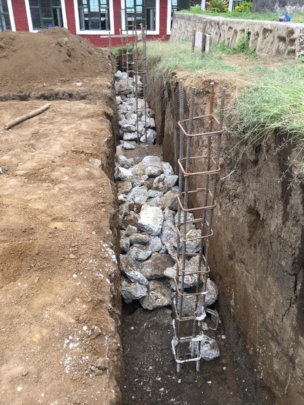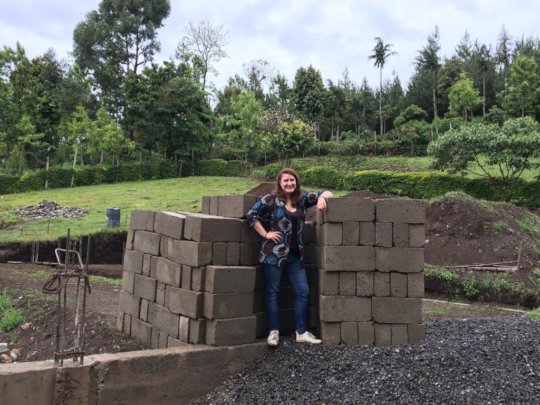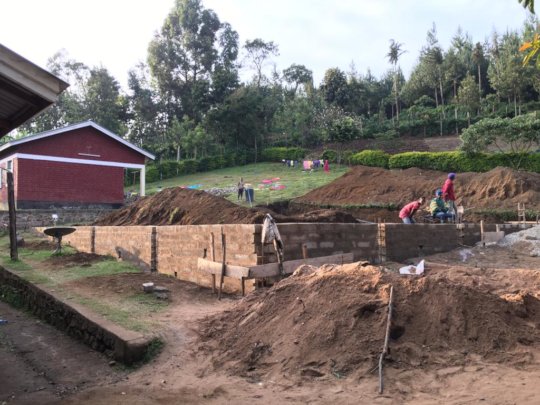 WARNING: Javascript is currently disabled or is not available in your browser. GlobalGiving makes extensive use of Javascript and will not function properly with Javascript disabled.
Please enable Javascript
and refresh this page.