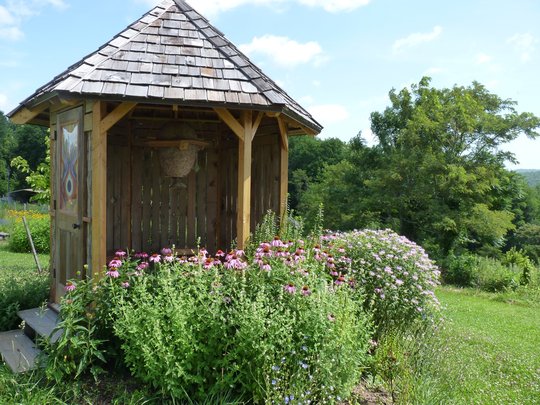 Dear Supporters and Friends,
It's high-Summer and the flowers at the Sanctuary are creating a buzz of joy, excitement, beauty, and sweetness that is apparent for all to see. Our honeybees are thriving, and it is with deep gratitude and thanks for your support that we are able to continue our work towards saving the honeybee.
With our beekeeping workshops filled, a 97% survival rate of colonies this past year, and a growing capacity to understand the needs of the honeybee, we feel so blessed. The needs of the honeybee are increasing with time, and our ability to address the current honeybee crisis needs to by looked at with increased creativity, sensistivity, and respect. The true gift of this crisis is that we can now see what we must do: we MUST change our ways. For all of us, there is no other choice.
This past year, roughly 43% of America's bee colonies collapsed--a fact that saddens our hearts more than any other. Without the bees, we have no future. Beekeepers are up against tough odds: pesticides, insecticides, neonicotinoids, habitat loss, the varroa mite...the list goes on and keeps growing. We really feel for those beekeepers who have had such terrible losses over the past years. These losses cannot be sustained by the beekeepers--there are more and more going out of business because of bakruptcy. The outlook for professional beekeeping seems to have a bleak future.
But the future is coming towards us, ripe with opportunity for change. While the external pressures that beekeepers face call for a creative engagement with the community, the most important call to heed is our own internal attitude. Right now, we need to change beekeeping methods more than anything else. And that is why Spikenard Farm is here.
As we write to you in the heat of Summer, we continue to look forward to opportunities to host more school groups, workshops, give public lectures, make political amendments to business-as-usual, and advocate sustainable beekeeping far and wide. Our methods are working, our students are becoming leaders, and we need more and more people to join us and help move this work forward!
All of these activities would not be possible without your help! So we thank you so much for your continued support of our work.
In gratitude,
Alex