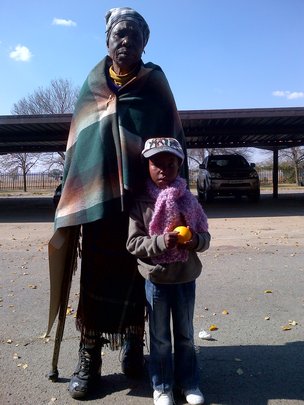 Dear Topsy Supporters,
Thank you for taking the time to find out more about the organisation that you choose to support. We are glad to have the chance to show you the results of your amazing support. Today I would like to share with you a story of the love and strength of one of the "Gogos" (Grandmothers) in our Orphaned and Vulnerable Children Programme.
This is about Gogo Patience (not her true name) in the words of her Social Worker, Heleen Venter:
"Patience is a grandmother of two children of which the youngest one is a patient at Topsy. The children's mother passed away some time ago. They are extremely poor and it is so cold in their house.
I wanted to share something very remarkable which I have never seen before. Patience is 70 years old and as you can see in the photo, she is disabled. She walks with great difficulty and the only way she can move around is with two old crutches. It looked as if she may have had Polio when she was little. Yet with all of this - you must see this lady taking care of her two orphans. When she does their washing she fills a bucket of water, puts it on her head and starts walking with this very heavy load and disabled legs with two wooden crutches, to the outside of her house to work outside on the grass. It seems effortless, and she did it perfectly, but can you imagine the weight and burden for this old Gogo to just do a normal daily task.
She is always so thankful and an example for so many people. She loves these two grandchildren so much, and taking care of them in such a simple but special way.
Today we gave the little girl some warm clothing on her visit to the clinic (not the hat and scarf in the picture) and to the family 3 double bed blankets. They were very, very happy. Life is not always fair but full of lessons for those who are experiencing a situation, and sometimes even more for those who observe the situation.
These are the lessons that I see. I choose two learn and try to be someone better than I was the day before. Topsy changes me every day. I thank God for it."
The Topsy programmes are child-centred and the overall aims of the organisation are to strengthen the family and community and result in the involvement of more community members by creating a sense of ownership and long-term sustainability through;
At Topsy, we have a future vision of flourishing rural communities, where a generation of young people, who in spite of the impact of HIV/AIDS, are productive participants in society.
Warm Regards
Sharon Pruss
Donor Relationship Manager
Links: