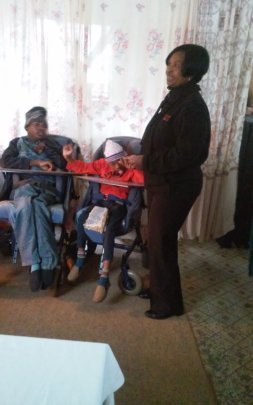 The Bophelong Stimulation Centre Report – October 2015
The Bophelong Centre for Disabled Children is situated in Syathemba, Mpumalanga, often referred to as a forgotten part of the South Africa, due to its scant infrastructure and lack of large-scale industry. We have been in partnership with Bophelong since April 2014. The centre is doing a great job caring for the children, despite the challenges they face in terms of lack of space, resources and training. The ratio of staff to children in most centres catering for children with disabilities is at the most four children to one staff member. When children with severe cerebral palsy are being catered for it is usually three children to one staff member. At present, with 40 children usually attending Bophelong centre and four care givers, it is difficult for the staff to cater adequately for the children's needs.
The ages of the children in the centre range from 3 – 17 years old. The building itself is very small. Their infrastructural needs are huge; from an audit completed by Topsy social workers we have identified the following requirements:
Storage space for indoor equipment and for practitioners personal belongings
More space, internal and external
More classrooms
Improvements to fencing around perimeter and a lock on gate
Outside play area
More bathrooms
More lighting
We support the Bopheloing in the following ways:
Assist with basic management and site development to create a stimulating environment for the children
Offer infrastructural support
Provision of specialised equipment to encourage play and stimulate the children
Train principals and practitioners on the concept of Early Childhood Development
Food security in the form of a vegetable garden and food parcels
We have built strong relationships with the following partners, which enables us to provide more specialised support to the children at Bophelong:
Gill Lloyd - a consultant in Inclusive Issues & Disability Management
The Sunshine Centre Association – a

non

-profit organisation in the field of intellectual disability, offering diverse services at many levels.

Shonaquip and Uhambo Foundation – committed to improving the quality of life of individuals living with moderate to severe disabilities. They manufacture and supply posture support wheelchairs, mobility equipment and other positioning devices. They have completed an audit on what equipment the children need.
ASHA Trust - a provider of Early Childhood Development support programmes for day care centres in disadvantaged communities.
Wheelchair Donations from Old Mutual through Shonaquip & Umhambo Foundation
In April 2015, we were thrilled to receive a donation of two specially equipped wheelchairs for two of our beneficiaries at the Bophelong. The wheelchairs were donated by the Old Mutual Foundation.
"This will most definitely ensure that secondary complications do not set in and that the girls are able to participate in activities and can thus develop in all areas."
Ruth Stubbs, Seating Practitioner, Inclusive Educator – Shonaquip/Uhambo Foundation.
Sunshine Centre Donation of Used Equipment - April 2015
Shonaquip and Umhambo donated used specialised equipment for the children of Bophelong.
Shonaquip Report on Bophelong Centre for Disabled Children
We made contact with the Uhambo Foundation with regards to purchasing a much needed Stimulation Kit for Bophelong. Through this connection, the director of the Uhambo Foundation arranged an assessment of the Bophelong Centre for the Disabled with Ruth Stubbs of Shonaquip Gauteng. The following recommendations were made:
Upgrades to 2 small Madiba Buggies currently used by 2 of the children
Upgrades to 1 large Madiba Buggy currently used by 1 of the children
1x 10" Sully wheelchair with a Tess back postural support system
1x 18" Sam wheelchair with a Tess Back postural support system
2 x small Madiba Buggies
ASHA Trust Practitioner Development Programme
Through funding that was secured by Topsy, from the DG Murray Trust, the principal of Bophelong was able to attend training conducted by The ASHA Trust. The C.A.R.E Skills Development Programme is a programme which includes face-to-face tuition and follow-up hands on support in the centres. The training started 12th May 2015 and all four modules of training have been completed. The ASHA training programme:
Equips the ECD practitioners with the basic skills of running effective and stimulating centres
Emphasises the importance of a daily programme and nutrition
Prepares the principals/owners of the centres, for registration with the necessary local authorities. Once this has been done successfully they become eligible to receive financial subsidies to help with the nutrition programme and to pay child care workers
The modules completed by the center site head were:
Module 1 - Children's Needs and Centre Requirements
Module 2 - Administration Requirements
Module 3 - Roles and Responsibilities of Day Care Centre Staff
Module 4 - Educational Needs and Learning resources.
A certification ceremony will be held in November. We are looking forward to rewarding principals for their hard work and seeing the joy on the practitioners faces for their achievements.
Gill Lloyd Training on Inclusive Education For Disabled Children
Bophelong Staff attended training by specialist educator, Gill Lloyd PhD. The four training sessions completed from 6th June - 11th July were:
Child Identification and Assessment - Provided facilitators with training to ensure the best education possible at the relevant developmental ages of each child
Special needs training for the Bophelong School for the Disabled – Practitioners were taught to distinguish the chronological versus the developmental age of special needs children and will be shown how to focus on most beneficial progress areas for each child
Identification of Barriers to Learning or Developmental Delays – Content included the different barriers to learning and how children are different from each other
Accurate Observation of children and Making Toys/Resources from Waste - The practitioners learnt that good teaching resources can be made from waste products. There is no excuse for a lack of resources
Shonaquip Training and Handover of Stimulation Kit - 17th and 19th August 2015
Shonaquip facilitated training at Bophelong with the practitioners on Monday 17th and Wednesday 19th August. The training was to teach them to provide the children at the centre with stimulation activities. Practitioners were taught how to access children's developmental levels, establish developmental goals, use the test kit to engage in stimulating activities with the children and assess their developmental progress over specific time frames. Shonaquip took time to identify children's abilities and areas that need improvement with the practitioners and to give practical ways of stimulating the children's development using the tool kit manual and toys.
Three practitioners were appointed two children each to work with over a period of six weeks. Shonaquip will visit the centre to check on the practitioners and children's progress. Developmental goals were set for the six children and stimulation activities will be done by the practitioners.
The practitioners from Bophelong had a wonderful time at the training. They were grateful for the opportunity to learn how best to do their work in a practical, simple and understandable way. Thembi, a Topsy Social Worker, said the following "The experience of the children at the day care centre cannot be explained. From not having stimulation toys to having someone who is knowledgeable and who understands their disability and developmental needs spend the day with them was an exhilarating experience. The children loved receiving attention, stimulation and love from Anushcka (Shonaquip), Topsy staff and practitioners."
Sunshine Centre Training
Practitioners from Bophelong were privileged to spend a day at The Sunshine Centre, to further develop the skills they learnt during Gill Lloyds training sessions. A professional from the Sunshine Centre taught the staff how to work with disabled children hands on i.e. physical and intellectual stimulation.
Fundraising for Bophelong
Natalie Hamett from Australia contacted us in April 2015 and expressed an interested in fundraising for Topsy, and specifically to help disabled children. She ran the Melbourne Half Marathon and raised R10, 000 which has been specifically allocated to improvements at Bophelong.
A grant of R 38,000 was awarded by The Persula Foundation from the UK specifically for the disabled children of Bophelong.
Plans for the Future
The funding we received from DG Murray Trust was awarded for one year. If all targets and indicators are met successfully they will consider renewing for three years. This will enable us to the train the principal for another two years:
Year Two (2016) training from ASHA will be Child Development Programme - ETDP SETA Accredited course. This will give principals the tools to develop children's foundation for learning; colours, shapes, numbers, big and mall, spacial awareness and written words.
Year Three (2017) will be "Money Management",

a

financial management training programme for people with little formal education, as is the case with our many of the day care centres we support. Successful practitioners will be awarded 5 points in accreditation towards SETA-ECD level 4.
We would like to employ one full time occupational therapist and one full time physiotherapist to work with all beneficiaries of our programmes. The children at Bophelong will benefit from this hugely. It will ensure they are stimulated and given specialist care, and one on one attention they desperately need
Additional outdoor equipment is needed to prevent the children from being indoors all day, and to encourage physical activity and development
We will continue to raise funds to enable us complete all the upgrades and purchase the equipment for each child that was highlighted in the audit completed by Shonaquip
Gill Lloyd's training sessions emphasised the need to encourage parents to educate themselves on how to help and stimulate their children. With adequate funding we would like to purchase the Parental Manual from Shonaquip that is associated the stimulation kit currently used at Bophelong
Thank you for taking the time to read this report.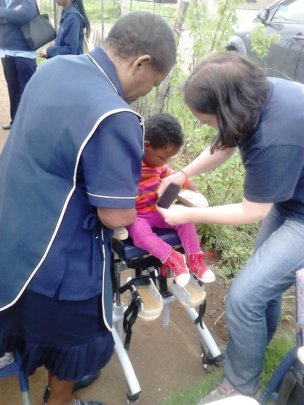 Links: