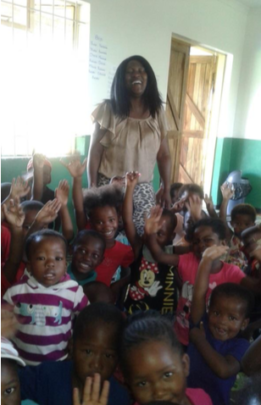 Our Early Childhood Development (ECD) Programme came into existence in 2014. We started out with a Play and Learn Centre which served 1300 children a year, and partnerships with 24 ECD centres. The word spread and impact was noticed by other principals in the area. In 2015, other ECD centres expressed an interest in joining forces with Topsy to improve the lives of the children in their care by creating better ECD centres. We now work with 38 ECD centres and reach 1924 children on average each month.
Our ECD programme would not have such great success if it wasn't for the strong relationships we have built with the ECD principals and practitioners, their hard work and dedication to improving themselves and their centres. One such Lady, Rose, attended the Money Management training we provided, which was facilitated by our partner NGO ASHA Trust. Like many of the ladies in our ECD programme, Rose is proud to be an ECD centre principal but never imagined her centre could operate like a business.
According to Rose, before the training her money management skills were limited and as a result there were many times she had to juggle between her income and expenses of the centre. Rose proudly admits her relief since the training, as she now has a budget in place that guides her spending. She now knows how to prioritise her spending without compromising the quality of operations of the centre. She is confident to present her accounts and is ready for the Department of Social Development's monitoring processes every time it is required. She expresses her gratefulness for the opportunity that we have offered her and her ECD centre.
2017 is the third and final year of training for Rose and the other 16 principals in this 3-year training cycle. We look forward to offering more opportunities to more practitioners in the year ahead.
Our ECD programme not only focuses on the education of young children, but offers food security, health services and emotional support to develop the child holistically. We believe that all children deserve the opportunity to thrive, regardless of where they come from.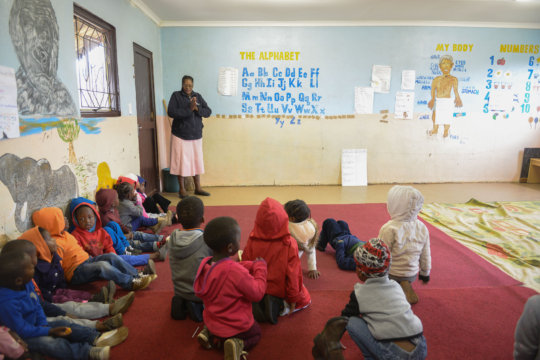 At Topsy, we believe that all children deserve the opportunity to thrive, regardless of where they come from. We work to break the cycle of poverty and empower rural communities in Mpumalanga, South Africa, through education, food security, health services and emotional support to children. It's our mission to provide disadvantaged rural communities with the support and tools needed to raise happy, healthy and capable children.
Our Holiday and Life Skills Programme is one of the activities that we hope will lead towards our beneficiaries becoming well-rounded, successful individuals. The programme happens twice a year during school holidays. We take kids from the rural communities that we partner with, out of their usual environment and expose them to new and exciting experiences. Our aim is to impact the lives of the children by teaching life skills.
When the schools broke up for the Easter holidays, we took 55 learners to a dry sky slope, Avalanche, in Johannesburg. According to the Orphaned and Vulnerable Children Programme Manager, Elizabeth, some of the children were so excited they arrived at Topsy's Health and Stimulation Centre at 6.30am, almost two hours early! Our staff prepared a packed lunch and performed a role call before the he kids boarded the bus for an hour and a half journey from Mpumalanga to Johannesburg. The kids weren't sure what to expect, as they had only been told to wear sensible clothing and that they would be doing something physical. The children were given a safety briefing in English, Zulu and Sesotho - an you could see their excitement and anticipation build - but the remained calm and patient. Finally they were given the go ahead and ran to the start, where they began 2 hours of bum boarding - skidding down the carpeted slope in a rubber tube. The children shrieked with joy as they sped down the slope, giggling as they collided into each other at the bottom. This went on and on as they climbed to the top of the slope and hurtled themselves down, over and over again. We thought they would never get tired! The kids were so well behaved and polite to the Avalanche staff and other children who were at the venue – they made us incredibly proud.
The day ended with a picnic in Lonehill Park and Easter Eggs were handed out as a final treat. Thanks to Avalanche for sponsoring this memorable and enriching experience for these special children. We are looking forward to planning the excursion for October 2017. If you would like to contribute to this programme and improving the lives of children from less privileged backgrounds, please give to our Orphaned and Vulnerbale Children Programme.

What an incredible year 2016 was for the Topsy Foundation!
2016 certainly was a jam-packed year filled with ups and downs, but fortunately far more ups than downs.
We are, as always, so extremely grateful to everyone who continues to believe in us and in the work we are doing in rural South Africa.
Topsy met this beautiful little girl, Karabo, who has Cerebral Palsy, and who desperately needed help with her buggy/wheelchair which was in disrepair. Her family lives in poverty and could not afford to get her buggy fixed. With a little bit of TLC, the before and after photos say it all! Look at her stunning smile! We serve the community in many different ways, but this has got to be one of our favourite transformations.
Our staff were fortunate to have been trained on the incredible HearX App. An App that you can use on a phone or tablet, with the use of headphones, to perform hearing and vision testing on site. This means that we can identify those children who have difficulty hearing or a sight impariment straight away and then get them the help that they need in order to lead normal lives.
We would like to take this opportunity to thank you for your support this year and for believing in the work that we are doing. Your valued partnership allows us to make our vision to develop thriving, sustainable communities by creating lasting transformation in individual's lives a reality.
We are extremely excited for a successful and busy 2017 where we can impact more lives and help be a part of the positive change.

Links:
WARNING: Javascript is currently disabled or is not available in your browser. GlobalGiving makes extensive use of Javascript and will not function properly with Javascript disabled.
Please enable Javascript
and refresh this page.