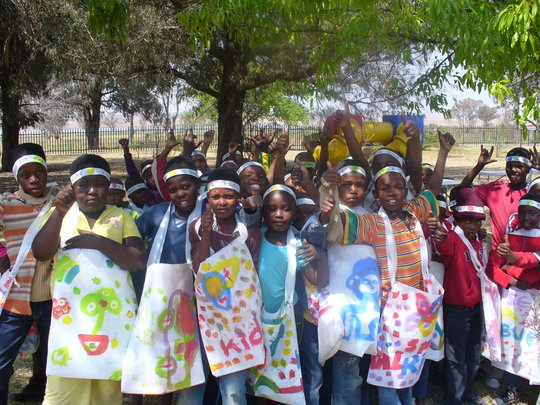 Dear Topsy family of supporters,
With each month that passes, the Topsy Foundation continues to steadily reach more and more individuals in need and we continue to steadily develop as an organization.
This year, we are once again ready to stand as an example to other organizations of what can be achieved when the will is there to do it and humanitarianism is backed by sound business principles.
In our third quarter for 2009, our HIV and AIDS Clinic had an average caseload of 1274 patients/month, (up from avg 767/month the previous year). We continue to grow and sustainably offer support to an increasing amount of impoverished people in rural South Africa. In October 2010, the Clinic saw a total of 1743 patients receiving free ARV medications for the month.
Our Community Outreach Programme (comprised of a Home Based Care Project, the Orphaned and Vulnerable Children Project and a Vegetable Garden Project) is also continuing to offer much-needed support to our communities. Figures for Home Based Care have also grown over the last year.
As you are aware, the interconnectedness of our projects leads to a natural growth and development, as more people learn about the options available to them to improve their lives. Our phenomenal staff working daily one-to-one with our beneficiaries are the golden threads who tie it all together, and they never stop working on delivering our services where they are truly generating positive change. A good example of this is that in this period, (May to October 2010) 1397 people came into the Clinic, defying stigma and fear and took part in Voluntary Testing and Counselling. Our staff were then able to give guidance on behaviour and life changes that would help them – whatever the result.
Our Skills Training Programme, comprising of the Tinyiko Sewing Project and the Shukushukuma Beadwork Project is doing very well. We continue to find new markets and opportunities for the sale of the items that our ladies produce. It is key that this happens, as it represents a very important arm of our service. We work with our beaders and seamstresses to ensure the sustainability of this initiative – in itself a vital goal.
Topsy is always happy and rewarded to reflect on the achievements and developments that we have been lucky enough to provide to our beneficiaries. Everyone who works at Topsy can say that we are satisfied to just be able to continue to serve our rural communities – and every further piece of growth is just a gift.
We are deeply appreciative of your contribution in the past, and are keenly aware of how important our family of supporters is. Without the partnership of key supporters like you, our future vision of flourishing rural communities, where a generation of young people, who in spite of the impact of HIV and AIDS, are productive participants in society … could not be.
In our Orphaned and Vulnerable Children's Project, the following events have taken place recently;
Orphaned and Vulnerable Children Career Guidance Day
The Topsy Foundation's Career Guidance Day took place on the 23 September 2010. Learners from 5 communities where Topsy renders services gathered together at Grootvlei NG Church hall.
The aim of the project is to get children to understand the fact that they have (potential) abilities, gifts and talents that they can make their future out of.
The first element that was attended to was "Analyzing oneself with the intention of knowing who I am", accepting such and planning one's life around strengths one has. Our Topsy Foundation Social Workers did a wonderful job here.
Then representatives were invited to give broad information on various careers that are available to learners and to shed light on how children can access resources to further their studies.
Last but not least there was an element of cherishing and inspiring them towards entrepreneurship for those who are entrepreneurially inclined.
The event was well organized and every person who formed part of the organizing team was enthusiastic and passionate. The parents/ guardians showed much support to the occasion by signing the consent forms and giving permission for the kids to attend. Learners who attended showed a high level of cooperation throughout the day. With the help of our fund development office we received goodie bags for each learner who attended which became the highlight of the occasion!
Learners in Grootvlei and its surrounding areas suffer from a lack of human resources due to the area's geographical location and environment. Services we offer, such as information on Career Guidance are therefore pivotal to the kids in the area who have potential to change their own circumstances. This type of occasion can be upheld and turned into an annual celebration as a way of influencing and partaking in the development of our area of operation.
Orphaned and Vulnerable Children's Stimulation Day
We held the Orphaned and Vulnerable Children Stimulation Day on the 29 September 2010. 43 children attended the day.
The purpose of the day was to expose the children to creativity and recreation – and so enrich their development and lives. Topsy Social Workers played games with the children and helped them to paint bags for them to take home for schoolbooks.
The purpose of the games was to make them aware of values like, honesty, team building and trust. Sensory awareness was a priority. The aim was to bring the children in contact with themselves and to let them have the chance just to choose - to be in charge of their own world for a short time.
They thoroughly enjoyed the day. Some of them said that they never had the opportunity to choose from so many colors to paint or draw with (and there were only 6).
Voluntary Counselling and Testing, Orphaned and Vulnerable Children Public Speaking Contest
This was a series of competitive events conducted with seven high schools from the communities served by Topsy.
Each competing child had to research one aspect of HIV and AIDS and how it affects people's lives. They then had to prepare and present a speech on it in front of their peers. They also had to do an impromptu 1 mini-speech on a related topic on the day.
The Topsy Social Workers were instrumental in ensuring that correct knowledge sharing was promoted and encouraged.
The preliminary competitions gave opportunities for a wide number of learners to be reached, especially in the schools that released all the learners for the event.
During the preliminaries the Topsy Social Worker spoke extensively with the learners about HIV and AIDS, emphasizing the need for the learners to make wise choices about their lives.
The final competition created an opportunity for the learners to speak about the importance of knowing their status and maintaining good behaviour with regards to HIV and AIDS. Having the learners speak to one another as peers helped emphasize the importance of them taking responsibility in the fight against HIV and AIDS, and encouraged positive behaviour, that will not only be beneficial to their health but their overall development and future.
Voluntary Counselling and Testing Campaign at Shalom Children's Home
The VCT campaign planned for Shalom Children's home was held on the 07th of October 2010.
25 children below the age of 16 years were tested. A request was made to test the other children who were tested in the previous testing campaign done. It was agreed that this shall take place on another day to be agreed upon.
The organization welcomed the testing of the children. It is always very encouraging to partner with other organizations to share our journeys towards the common goal of helping communities dealing with HIV and AIDS and the associated challenges.
Lastly, numbers of beneficiaries assisted through food parcels May to October 2010 was 3112. These food parcels are so important and are such a vital aid for households until we are able to set them up with state grants. Before households are able to access a caregivers grant, they often have absolutely no other form of support and are severely malnourished. This is disastrous, especially for HIV positive individuals as nutrition is so important when your immune system is compromised.
All of this, is only possible with the support of our donors and we would like to express our sincere thanks for the support we have received this year.
Best wishes for a wonderful festive season; we look forward to reporting back on progress made in 2011.
Take care,
Michelle