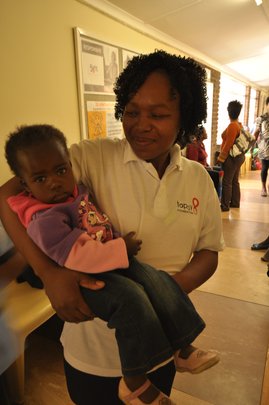 Dear Topsy Supporters,
Your generosity is deeply valued by all of us here at the Topsy Foundation. You are the fuel for the engine that must keep working to give life-saving and community building services to our impoverished rural communities.
Right now we are at a crucial stage. There are 2 key aspects that have come together now.
Firstly, with ten years of service behind us, the word continues to spread in our impoverished and isolated rural communities that Topsy is the place to go for help. We are so humbled by the recognition that our beneficiaries give to our work. They remind us daily and keep us inspired to continue to strive to offer them our very best.
Everything that Topsy does centres around our core services extending from our Comprehensive HIV and AIDS Care Clinic (CHACC). When we reflect on the growth of the uptake of Clinic services, we can see both a dire need in the communities as well as the good reputation of Topsy filtering through to those people in need. To take a snapshot in time – in 4 years we have grown from attending to an average of 546 patients per month (2008) to a caseload of 2 754 per month today.
Our patients value the fact that at Topsy we take a holistic approach to ensuring the best treatment for HIV and AIDS – taking into account medical and social aspects affecting people. This is evidenced by the range of our services which include:
Orphaned and Vulnerable Children Project
Vegetable Gardening Project
Home-Based Care
ARV Therapy
Prevention of Mother to Child Transmission
Cervical Cancer Screening
Tuberculosis Diagnosis and Treatment
Skills Training.
As we go from strength to strength in our abilities to help more people to not only handle their illness, but to develop their communities, we must strongly consider the second aspect.
This aspect is sustainability. It is essential that we are able to provide consistent support and provision to our beneficiaries. At Topsy we ensure that this is possible through a long-term fundraising strategy and an approach to service delivery that is both effective and efficient.
With the changes in giving behaviour brought on by the last few years of global economic pressure, we are mindful of the value of each and every one of our generous supporters. We appeal to you to continue to share what you can with those living in desperate need and very few options.
A great opportunity to do this will be this WEDNESDAY 19th OCTOBER. GlobalGiving.org is matching at 30% all online donations up to $1,000 per donor per project! There is $100,000 available in matching funds on 19th OCTOBER. If you feel that Topsy's work is something that you'd like to be a part of – then helping us through an online donation is the perfect way to do that.
We would very much like to take this opportunity to thank you again for all of your support and continued belief in the value of Topsy's offering to our beneficiaries. Please continue to help us to save lives and build impoverished rural communities.
Warm Regards
Helen MacKenzie
Communications Manager