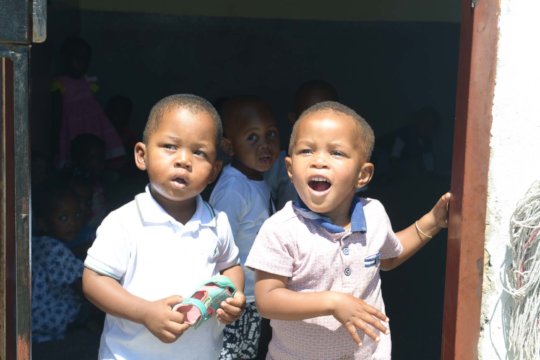 Last year was a year of change and growth for The Topsy Foundation. The biggest change came with the appointment of Sarah du Toit as Executive Director in August. With this change came a new style of leadership, bringing with it new energy and enthusiasm.
The change led to greater focus on improving our Holistic Early Childhood Development (HECD) Programme, with more work on the ground in the communities, as opposed to strictly centre-based Early Childhood Development. This means we will have a greater understanding of community needs, by acting on what we hear and incorporating feedback into every project. With the learning gleaned from our actions, we will then continually repeat the process, strengthening our impact with every cycle.
In 2019, we visited just over 700 adults and children in their homes each month. This number is set to increase, leading to better outcomes for us and improved service for our community members. Growing the number of household visits grants more adults and children access to our social support services, such as Social Workers/Social Auxiliary Workers and child protection. We are also proud to have 25 ECD practitioners (all women), an increase from previous years, undergoing training through Topsy. This means more ECD centres will be run efficiently, offering children age-appropriate learning.
Another exciting change in our HECD Programme is the addition of the Caregiver/Parental Capacity Building Project. The essential aim of this project is to bring ECD into the home, for those children coming from households unable to get the children to an ECD centre. There are many such homes, as the well-respected South African Early Childhood Review attests to in its 2017 finding. This report showed that 111 000 children in Mpumalanga do not attend an ECD centre, the negative effects of which are long term.
Our project aims to build the capacity of primary caregivers to access the essential elements of an ECD package from conception. This includes good nutrition, primary healthcare, play and learning opportunities, as well as social protection services for children from conception to six years of age. It will be implemented early next month and once up and running, aims to reach 500 beneficiaries. The programme was adapted from the UNICEF Parental Capacity Building programme, with training facilitated by eLRU (Early Learning Resource Unit).
Along with the eLRU training, our staff did Protective Behaviours (PB) training, a child safety concept created and facilitated by Protective Behaviours SA. PB helps children to develop the self-confidence and skills needed to help them avoid victimisation, by teaching them to recognise the concept of personal safety and trust their intuition. Child protection is of great importance to us; as such we will include PB when implementing the Caregiver Capacity Building Project.
One of our proudest accomplishments in 2019 was reaching 6 000 beneficiaries through our Food Security Project, through which we empower communities to grow their own food by providing training and tools for their vegetable gardens. These gardens can now be found in ECD centres and schools, as well as individual homes and larger community gardens.
With all the positive changes, the recent training to improve our programme and the increase in beneficiary numbers, Topsy is leaping into 2020 with greater enthusiasm and knowledge. We now need your donations to help us continue protecting the rights of children during their critical, formative years, ensuring they reach their cognitive, emotional, social and physical potential in rural Dipaleseng, Mpumalanga.