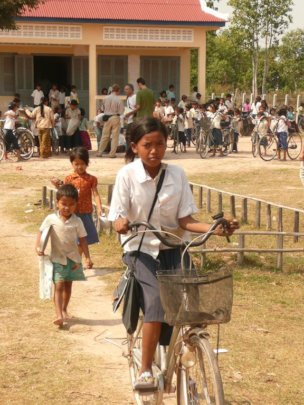 First, we want to say we hope that all of our Trailblazer friends and supporters are staying safe and well during this uncertain time due to Covid-19.
Secondly, we are happy to report that despite the virus, 2020 started out with great success! In a recent GivingTuesdayNow campaign we received enough funding to purchase 100 bicycles for students waiting to receive a bicycle, just like these students who received their bicycle in past years.
We wish to thank everyone who participated in the campaign, and also to those who have made donations outside of the campaign. Your contributions continue to make this education project successful and enable us to supply rural students with a much-needed bicycle.
With this said, the delivery of these valued bicycles will need to wait awhile. The Kingdom of Cambodia has taken the protective measures as other countries have who suffered outbreaks of Covid-19, and so schools are currently closed.
Soon the annual summer break will begin, but when schools reopen in the fall we will move forward with the distribution of these 100 bicycles. So, stay tuned for our next report and photos of the happy student recipients!
Please take care and be well.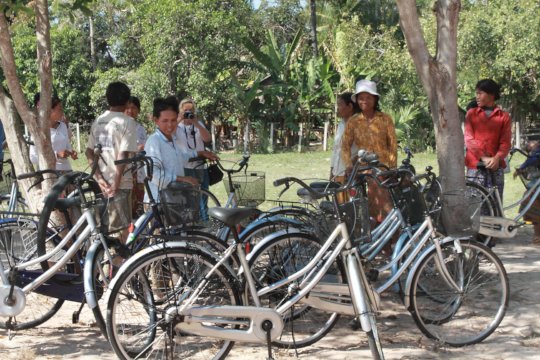 Due to the tremendous support Trailblazer received in 2019, we were able to install 574 bio-sand water filters to rural families, that is 159 more filters than our annual goal.
Bio-sand water filters are designed to service 15 people, so this number of water filters could potentially provide over 8,000 individuals with clean, safe drinking water. This is a notable figure of rural Cambodians whose health and lives will be greatly improved because they have a bio-sand water filter.
We could not do this great work, though, without the generous support of our donors. Trailblazer is privileged to have the continued support of our efforts, and to be able to help raise our Cambodian partners further out of poverty and into more sustainable livelihoods. You can continue this success with an $80USD donation to purchase a water filter. You can donate in your name, or that of someone you would like to recognize.
You may be curious how the bio-sand water filter works. The diagram below describes how the filter functions to remove bacteria, viruses and protect against dangerous waterborne illnesses. With every bio-sand water filter installation, Trailblazer staff train the recipient family about the proper use and maintenance of the filter, as well as basic hygiene and santitation practices, to ensure the project is lasting.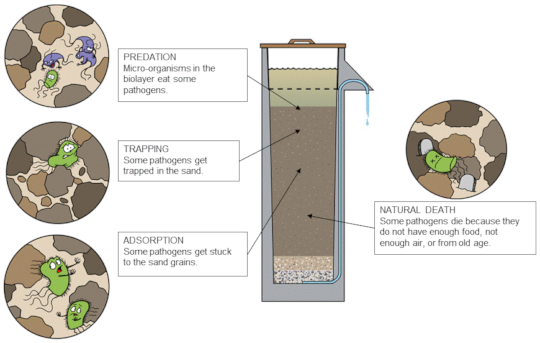 We wish to thank all our donors who made it possible to provide a total of 92 bicycles to rural Cambodian students in 2019.
On December 3, 2019 Trailblazer delivered its third batch of bicycles for the year. Thirty-one bicycles were delivered to students of Toul Krous Primary School in Khun Ream commune, Banteay Srey district, Siem Reap province. There are 330 students who attend this Kindergarten through 6th grade school.
Banteay Srey district is one of the 12 districts in Siem Reap province, and is a new district area that Trailblazer Foundation will work in during 2020, and beyond, as requested by government officials.
Banteay Srey district has a poverty rate of 19.3% and is one of the poorest districts in Siem Reap province. The percentage rate of children between the ages of 6 and 14 years old attending school is 81%. The literacy rate of students between the ages of 15 to 17 years old is just under 95%.
The support for bicycles is an important step in continuing and growing the education of children in this poor rural district. Providing bicycles help build literacy rates because students are able to progress from primary school to secondary school to continue their education.
Your donation(s) have contributed to this success. These students will be the future of Cambodia and help develop their country. Thank you again for supporting the education of these rural students.
WARNING: Javascript is currently disabled or is not available in your browser. GlobalGiving makes extensive use of Javascript and will not function properly with Javascript disabled.
Please enable Javascript
and refresh this page.