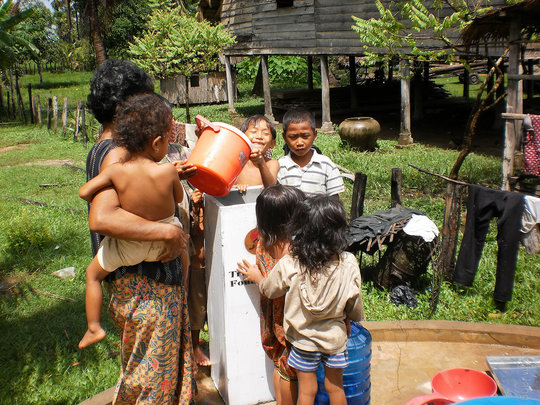 First, I wish to thank everyone who made our September Challenge campaign a great success. We raised over $5,000 to support our water programs. That means that over 80 rural families will get clean drinking water, improving their health with better sanitation and hygiene conditions. Children won't suffer from water borne illnesses and will be able to stay in school to get an education leading them toward greater success. Adults won't be sick and will be able to work better, earning more income to support their families.
Trailblazer Foundation has been installing bio-sand water filters for nearly 8 years now and has well over 4,000 delivered to rural villagers in Siem Reap Province, Cambodia. Yet each year the list of those in need grows.
Trailblazer is known for tackling greatest needs and following through on its commitments. This reputation has opened doors and is critical to building on established relations over time. Each year Trailblazer is invited to attend Integrated District Workshops to review priority lists of identified needs and sign agreements to help using a participatory model of community-based development. Water is a typical priority because it allows people to drink, bathe and irrigate. Our team, right now, is collecting new data of identified needs and villages from five different district workshops.
One of the most telling indicators for a lack of development is water access, food security, nutrition, and health status of the people. One of the easiest ways to combat poverty and disease is to provide access to clean water sources. Bio-sand water filters ensure water from any water source is potable, immediately reducing the impact of water borne diseases. With a bio-sand water filter there is no need to boil the water after filtration to make it safe to drink. They are easy to use, save villagers' time, money and firewood, and ultimately improve their overall health and the environment.
When there is access to water, associated developments can occur to improve livelihoods and establish sustainable commerce. Our list of projects for 2014 may appear overwhelming, but Trailblazer's effectiveness in helping improve health and reducing poverty will bring hope to thousands. Your generousity allows us to continue helping, one family at a time, one village at a time.