Trailblazer is proud to report that so far in 2015 nearly 2,000 more rural villagers have clean drinking water with the installation of 126 bio-sand water filters, and over 400 villagers now have access to water with the installation of 25 wells. With access to water villagers are irrigating gardens, raising fish and improving their overall health along with increasing their ability to generate income.
Addressing another clean water issue. Trailblazer received a 40 foot container, nearly 5,000 boxes, of Proctor & Gamble PUR water purification sachets. That is enough sachets to purify over 20,000,000 liters of water! Each packet purifies 10 liters of water. The majority of these PUR water sachets are being distributed to thousands of villagers living out on and around Tonle Sap Lake where our bio-sand water filters are not appropriate.
Trailblazer's latrine project to improve the sanitation and hygiene for 62 families in Preah Ko Chas village was made possible by the generous donation of $5,000 from SSKIDS [Simple Supper for Kids in Desperate Situations] at their 18th annual soup supper. The village population served has 565 people, of which 259 are female with 157 children below the age of 14. Latrines reduce the amounts of ground surface Ecoli and typhoid which contaminate crops and surface water used by villagers, and provide a more comfortable and private area for use by all beneficiaries, especially women and children.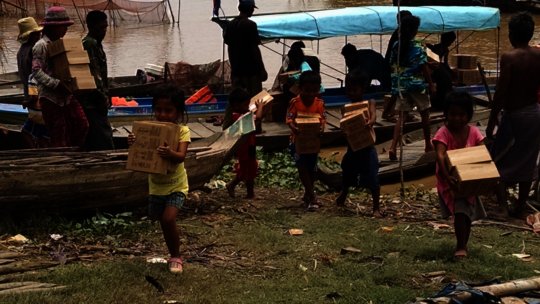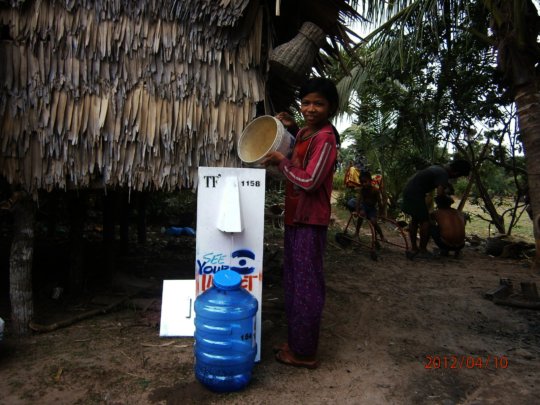 Links:
In the last three months the Trailblazer Water Filter team has delivered and installed 102 bio-sand water filters to new families. This means another 1,500 plus individuals will now have access to clean water for drinking, cooking and washing dishes, resulting in an improvement to the health of their families so they can work and farm more effectively to better support their family.
Because our Water Filter and Well Drilling teams are frequently in rural villages and have a good relationship and report with villagers, some villagers reported that they were having a problem with their bio-sand water filter. These families understand the importance of clean water and wanted to once again enjoy the benefits of potable water. The Trailblazer team, therefore, spent time to maintain those 26 bio-sand water filters that were not functioning properly. Now over 300 individuals will be able to keep themselves healthy because of the repair made to those bio-sand water filters.
The village woman in the photo, though her life is simple and she and her family are true victims of poverty, living in a palm leaf hut, owning no livestock, having no food stocks or means of transportation, Trailblazer has been able to give them the most basic of needs, clean water, and hope of a better life thanks to the kindness of donors who wanted to make a difference.
You too can make a difference. It's not complicated, all it takes is a willingness to help. With $80 USD you can impact 15 people [that equates to one, two or three families] by providing them with the gift of a bio-sand water filter. A gift that keeps on giving! Please, give today. Thank you for helping make the world a better, healthier place.
Heab lives with her family of six members, only one is male, in Kouk Ruessei village, Kaev Poar commune, in Puok district. They are actually quite lucky to live in a house made with wood walls, being they all survive on a $.50 per day income. However, Heab's family is too poor to own cows or oxen and a cart, or a motorbike, so the entire family shares the use of their single bicycle for transportation. They have no livestock like chickens or fish to augment their food securities and cannot grow enough rice to have extra in storage to get them through the dry season and until their next harvest.
As you can see here by her smile, Heab is very happy to receive a bio-sand water filter for her family and be able to give clean drinking water to her children. Now that they have potable water their health will improve which inevitably brings about a natural process of development.
Thank you for bringing clean safe drinking water to Heab and her family.
WARNING: Javascript is currently disabled or is not available in your browser. GlobalGiving makes extensive use of Javascript and will not function properly with Javascript disabled.
Please enable Javascript
and refresh this page.