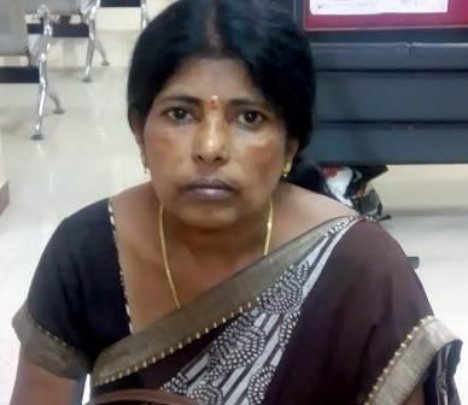 Background:
A 48 yr old female was seen at our hospital on 18.11.2019 by Dr.Krishna R Murthy. She was screened in one of the cataract screening camps and was referred to us for retinal evaluation and management. On examination she informed of diminution of vision in right eye since 15 days. Her visual acuity in right eye was counting fingers at 3 mtr distance. Fundus examination of the right eye showed full thickness macula hole in right eye.
She was advised to undergo RIGHT EYE VITRECTOMY + ILM PEELING + FLUID GAS EXCHANGE + C3F8 GAS TAMPONADE UNDER LOCAL ANAESTHESIA.
Surgical Management:
After undergoing all preliminary investigations (physical fitness) she was posted for surgery on 22.11.2019 @ 04:40pm. The operating team consisted of Dr.Krishna R Murthy & Dr.Bhargavi Murali – Operating surgeons, Dr.Megha Agarwal – Assistant Doctor, Mr.Anilkumar - Surgery Assistant, Dr. Naveen – Anesthetist, and OT Assistants- Mr.Umesh & Mr.Ravikumar.
The surgery lasted for 1 hr and it was uneventful. She was discharged on 23.11.2019 with an advice to follow all medications and to maintain strict prone position (Face-down positioning is the recovery posture following vitrectomy with gas tamponade for treating macular hole closure) for 13-14 hrs a day for 3 weeks & review after 1 week.
Full thickness macular hole is an eye disease, which can cause permanent visual impairment. It is a small break in the macula, located in the center of the eye's light-sensitive tissue called the retina. The macula provides the sharp, central vision we need for reading, driving, and seeing fine detail. A macular hole can cause blurred and distorted central vision. Early detection and referral of these patients is vital so that early surgical intervention can be carried out to improve their vision.
Tamponade is the closure or blockage. C3F8 (perfluoropropane) is a gas tamponade used for macular hole repair which prevents further fluid flow into the subretinal space. The bubble acts as a bandage
She works as a support staff involved in inspecting car spare parts which requires good eye sight. Due to her vision problem she was unable to carry on the work and support the family. Financial constraints made her hesitant to go for eye checkup. Hoping for free eye treatment she attended one of the cataract camps organized near her place. As she required retinal evaluation and management she was guided to our hospital for help and support.
As on 30.12.2019; she is very happy with the improvement in her vision and has been suggested for glasses checkup after 2 weeks.