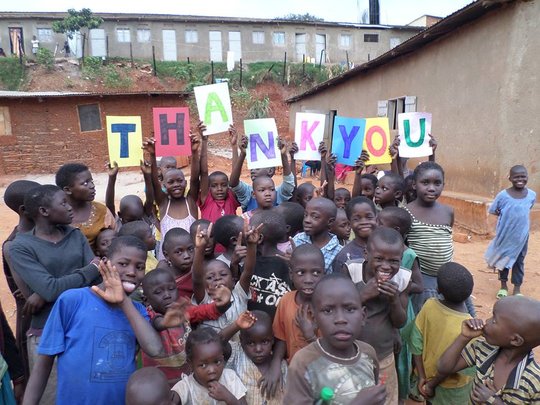 Since the EWAFE Project launched in June, we have seen some exciting developements. Through the Global Giving Gateway Challenge and so many people's generosity and support, we have raised enough money to buy land and build an emergency shelter for children to be housed in until we can either reunite them with family members or find them a foster family. We are in the process of buying the land at the moment.
Sam, who is the Ugandan director for Kids Club Kampala has recently attended a CRANE (Children at Risk Action Network) meeting and also a Street Child Consortium meeting to seek advice and support from other NGOs working in a similar field. CRANE is going to support us in providing us with child settlement packs and provide much needed training for foster parents and carers.
Project Impact Story:
Junior (aged 9) and Sarah (aged 12), two children who were abandoned back in March are now officially in the custody of Kids Club Kampala and one of KCK's volunteers, Juliette has volunteered to take care of them. The EWAFE Project is supporting Juliette and her family to take care of them, by providing food and other basic necessities. The love and support Junior and Sarah are recieving from being in a loving and caring family has been transformational.
Juliette writes:
"Before these children came to us at Kids Club Kampala, they felt unloved, uncared for and they had no sense of belonging. They didn't seem like children, as this love and care was missing from their lives... Since being part of this project, the children have expressed their joy for now having a family, and they have regained hope for the future which they did not have before. They now no longer see themselves as children without a home or a family, they have re-gained confidence and self-esteem and they no longer see themselves as any different to other children who live with their biological parents."
Next Steps for The EWAFE Project:
Our main focus over this next month is securing the land purchase for the emergency temporary house and raising funds to build the home. The land costs £5000, which we have amazingly raised through the Global Giving Gateway Challenge and so many people's generosity.
Our next steps are:
Purchase land
Raise £18,000 to build the house
Build the house
Buy furniture and items for the house
Find regular financial support for the on-going running costs of the house
Employ social workers to support the children, families and project
Build resources to support children to go to school
Our future plans are to:
Run regular parenting courses in all KCK centres
Increase the number of children being sponsored to go to school
Train more social workers to work across all of our KCK centres
Find teams from the UK to come out to specifically assist with the Ewafe project
Find regular donors committed to supporting this project
Start national advocacy campaigns in Uganda against child abandonment and promoting fostering and adoption.
Continue to pray, fundraise and promote this project
Thank you so much for your support in stopping child abandonment in Uganda!
The Ewafe Project Team
If you would like to support EWAFE Project financially, through prayer or through other resources you think may help, please do let us know. If you would like to know more about the EWAFE Project and how you could get involved with supporting it from the UK, please email Emmie on ewafe@kidsclubkampala.org.