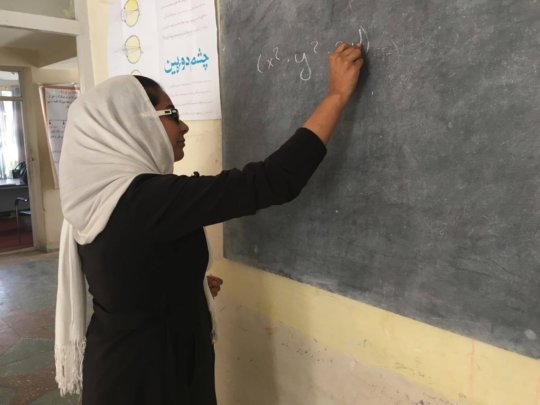 In light of the recent Olympics in Rio de Janeiro, we decided to feature some of our student athletes! These AAE students are not only dedicated to overcoming obstacles to finish their education, but they're passionate about staying healthy and competing in sports.
Sports have a tumultuous history in Afghanistan. During years of war, enjoying sports for fun and competition was nearly impossible for many reasons. Even today, female athletes continue to meet resistance. In many parts of Afghanistan, conservative expectations of women dictate they stay inside to cook and clean. Sports and education don't necessarily fit that narrative.
Yet AAE students never back down from a challenge. Take Kabul students Trina and Salma. Trina, 15, is a 7th grade soccer player who plays recreationally and competitively, practicing almost six hours a week with her teammates. On the other hand, Salma, 16, has fallen in love with taekwondo and has been training for two years. Around her 9th grade course load, she is able to work out three days a week. Like Trina, competing and staying healthy are important to Salma.
One day, we may see AAE students competing in the Olympics representing their country and people. Until then, we're focusing on giving them the best education possible, which we can't do without your support. For $30 a month, you can sponsor an AAE student like Trina and Salma to make sure she finishes her education and goes on to change the world.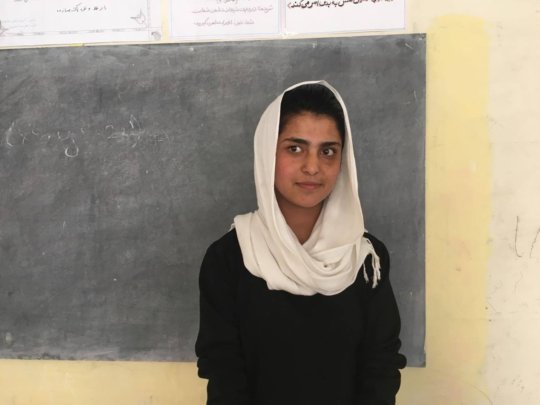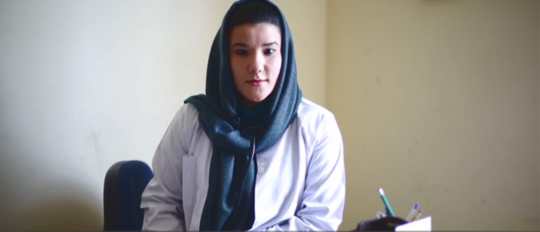 One of our goals is to empower marginalized Afghan women through education. Educated women give back to their communities in amazing ways-- by boosting the economy, sending their children to school, and improving access to healthcare for their families. In fact, one AAE graduate is doing just that.
Anita Azizi came to AAE schools out of desperation when she was behind in her studies due to her age. After graduating with a state-certified high school diploma, "I studied what I loved at university," Anita says, sitting in her midwifery office and smiling proudly at her ability to serve her community. She has been a midwife for two years outside of Kabul and love providing women and children with better access to healthcare.
"I love serving our people, because our country is backwards and women like me are making it better so Afghanistan can stand on its own feet," Anita says. She knows how powerful her impact is, thanks in part to her schooling at Aid Afghanistan for Education. And of course, our programs and Anita's education wouldn't be possible without your support.
We have over 3,000 students in school today with dreams like Anita of becoming doctors, teachers, politicians, mothers, and journalists. Thousands of graduates are scattered throughout Afghanistan already, working daily to make a better world for themselves and their children. All of this is thanks to your dedicated support, for which we are eternally grateful. However, the work isn't quite over yet. By sponsoring a student for $30 a month on GlobalGiving, you can ensure Afghanistan becomes a little more peaceful every day.
Links:
Remember Anisa, the AAE graduate studying law after putting 9 children through medical and law school? She's made her way onto Al Jazeera!
Click here to watch Al Jazeera's interview with Anisa.
When she was growing up, Anisa dreamed of going to school but her father wouldn't allow it. When she married at 16, her father-in-law and husband opposed her education as well. But after every single one of her 9 children graduated high school, then university, then medical or law school, Anisa decided it was her turn.
Even though most of her fellow students could be her children, "Anisa has changed the minds and beliefs of most of her classmates," says her professor. "Her presence in the class and pursuing her education has convinced her classmates that a woman, no matter her age, can study and be self-confident and self-reliant and can achieve her goals through education."
Many people in Afghanistan are still against women's education, but Anisa refuses to listen to them. "I don't care what anyone says about me. They say that by studying at this age, what will I end up with? My response is that I will continue my education and pursue my master's and PhD. I will continue studying for my entire life so I can serve my society and my country if I get the chance. I want to be a defense attorney and fight for the rights of women whose rights have been disregarded."
Anisa hasn't let anything stand in her way. And we won't either- that's why we work every day to make sure everyone in Afghanistan has equal access to education.
Links:
WARNING: Javascript is currently disabled or is not available in your browser. GlobalGiving makes extensive use of Javascript and will not function properly with Javascript disabled.
Please enable Javascript
and refresh this page.