Last week in Kabul, we celebrated our favorite time of the year: graduation! Ninety-six students of all ages received their state-certified diplomas in a joyful ceremony joined by family, friends, AAE staff, teachers, and government officials. We even streamed graduation on Facebook Live for the first time!
Graduating student Massouma's son was perhaps the youngest attendee at just fifty days old. During the ceremony, Massouma held him in one hand and her diploma in the other.
Massouma's life leading up to graduation was not easy. During the years of war, she and her family fled to Iran as refugees. They returned to Kabul after eight long years. Twenty-year-old Massouma tried to enroll in public schools, but none would take her because of her age. As a result, she turned to AAE and enrolled in sixth grade. Her husband, an electrician, encouraged her to study. While she can't afford to study at university just yet, Massouma dreams of becoming a midwife to improve the health of women and children in Afghanistan.
Massouma isn't the only AAE student reveling in success. Amina, a 28-year-old widow, former child bride, 10th-grade-student, and mother of four shared her story with UNICEF Afghanistan on their blog. After her husband's death and a struggle with her in-laws, Amina fought for custody of her children for seven stressful years. She heard about AAE while working at a kindergarten. So, at 25 years old, Amina enrolled in sixth grade at AAE's school in the Parwandoo area of Kabul.
"It was very difficult to start but my teachers and other classmates made it possible by helping me. I love all subjects. I like it that most of my classmates are close to my age. They give me confidence and encouragement," said Amina. "If not for this program, I don't know what would have happened to me and my daughters. It was always my dream to return to school one day."
Like Massouma, Amina has high hopes for her children. "I want to work hard to make money and provide for my daughters. I want to make sure they will have good education and successful lives. I don't want them to get married young." Amina was taken out of school by her family at age 12 and was married by the time she was 14 years old.
Thank you for all of your continued support throughout the years as AAE grows. With your help, more than 1,900 students have graduated from 12 schools in six provinces across Afghanistan. All of us – current students, graduates, AAE staff, and you – are working hard to foster peace in Afghanistan. Now, as we are in between grant funding, we need your help more than ever to keep our doors open. We hope you'll consider sponsoring a student today to make sure students like Massouma and Amina graduate from high school and bring education, economic prosperity, and peace to their communities.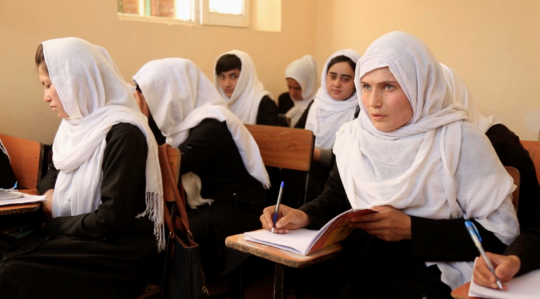 Links: