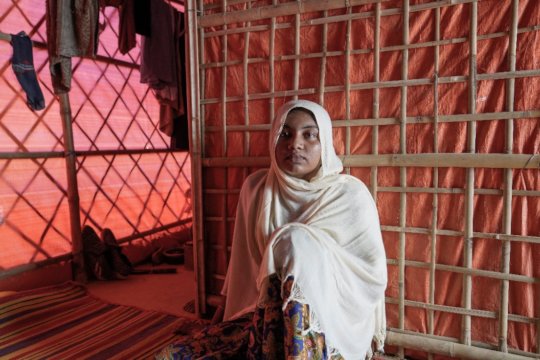 Dear Supporter,
The Rohingya continue to live in makeshift refugee camps in Cox's Bazar, Bangladesh. Although they have made it through the monsoon season, the danger has not yet passed, and many people still call these camps home.
Lukia* (18) grew up in the Jalipara region of Rakhine State with her three sisters and brother. Her father was a fisherman, who provided for her whole family. They had no land or livestock but lived peacefully and could even afford to eat meat two or three times a month. She married just one week before the conflict broke out.
Lukia was not inside her family home when it was attacked by the Myanmar army, who used a rocket launcher to set it on fire. Her parents, brother and husband sadly were inside, and died instantly. Lukia managed to escape her village without capture and spent two days walking to safety with her neighbours, who also suffered loss at the hands of the Myanmar army.
After they arrived at a river, they hoped to get a boat to safety, but Lukia was denied access, since she had no money to pay the boatmen. At this point, Lukia hadn't eaten for two days and had no choice but to stay and wait in a tent with strangers for almost two weeks.
During this time, Lukia managed to send information on her whereabouts to her eldest sister, who had already fled to safety in Bangladesh. It didn't take long for her sister and nephew to reach the border and bring her with them by boat. Despite this, Lukia still feared the Myanmar army would capture her. Those fears didn't subside until she finally reached the refugee camp safely.
Upon arrival, Lukia was given mats, blankets, soap and a water container from Concern Worldwide. Although Lukia feels safe in the camp, she's not allowed to work, so she receives no income. She only eats rice, daal and, on occasion, dried fish. She dreams of returning home to Myanmar when the bitter conflict ends. Until then, she is grateful for the safety and care that she is provided in the camp.
Thanks in part to your support, women like Lukia can begin the process of rebuilding their lives in relative safety and comfort.