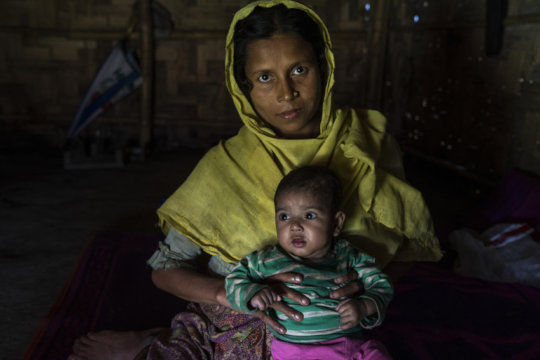 Dear Supporter,
Since August 2017, 750,000 Rohingya refugees — including more than 400,000 children — have fled to the Cox's Bazar camp in southeast Bangladesh to escape violence in Rakhine State, Myanmar. It is now the largest refugee camp on Earth.
Sadly, one in six of the Rohingya children living in Cox's Bazar are malnourished. That's over 65,000 children under the age of 5 going hungry and running the risk of effects like stunting that can affect them for the rest of their lives — or even cut those precious lives short.
As the crisis has now reached a grim milestone of two years on, let's take a look back at how it began and what Concern is doing to respond to the latest threats facing refugees today.
Who Are the Rohingya and What Happened in 2017?
The Rohingya are a majority-Muslim ethnic group that has lived in the mostly Buddhist nation of Myanmar for centuries. At the beginning of September 2017, over 435,000 Rohingya poured into the southeastern Bangladesh city of Cox's Bazar, fleeing violence in their home villages.
On average, most Rohingya refugee families arriving in Bangladesh came with 4 children and spent up to 10 days fleeing to the safety by foot. Many arrived with nothing but their lives and the lives of their children.
What Challenges do the Rohingya Face in 2019?
Flooding
The rainy seasons in Bangladesh have made day-to-day living in the crowded camps even worse. As of August 2019, floods in Bangladesh have affected 7 million people (primarily in the northeast). The rainy season impacts roughly 60% of the country.
Clean Water
Despite monsoons and heavy rains, many Rohingya only have access to water from rivers and ponds — the same waters they defecate and wash in. Those who have made it to Bangladesh are in desperate need of basic essentials, including food, shelter, and clean water.
Food, Nutrition, and Healthcare
When they arrive into Bangladesh, many Rohingya are already hungry or showing signs of malnutrition. Severe acute malnutrition affects children the most and leaves them more vulnerable to life-threatening diseases like cholera and diarrhea.
Safe Spaces and Resources for Women
Rohingya women traveling alone or with only their children, are vulnerable to gender-based violence and in need of safe spaces, hygiene supplies, and basic items to maintain their dignity.
Housing and Shelter
Many Rohingya are living in overcrowded or makeshift camps in Bangladesh. Others have no option but to be homeless on the streets, while thousands of others are stuck between the borders. What shelters families do have are threatened by rains and monsoons.
A Long Commitment to Bangladesh
Concern has been working in Bangladesh since 1972. In over 45 years, we've reached millions of people with lifesaving emergency response as well as longer-term development programs. Concern has worked in the past with the Rohingya, and our current response to this emergency ties directly into our mission of focusing on the poorest, most vulnerable members of our global community.
In 2018 alone, Concern screened approximately 49,500 children across nine refugee camps for signs of severe malnutrition every month, admitting over 6,140 to our outpatient clinics, where we achieved a cure rate of 97%.
Our work in Bangladesh is thanks to your support. We simply couldn't do it without you.