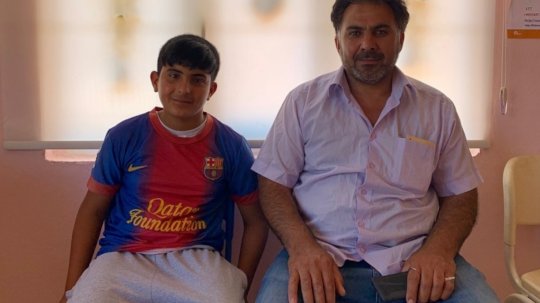 Dear Supporter,
As children in the US and elsewhere have been returning to school over the last few weeks, getting access to education continues to be a challenge for thousands of Syrian children living in Turkey.
Amid the upheaval of conflict, it is often children who feel the greatest impact. Forced from their homes and living in strange and uncertain surroundings, the day-to-day realities of life are left behind and this often includes access to education.
Rather than attending school and building a positive future, children are frequently left with no choice but to work to help support their families – a decision that can have repercussions for the rest of their lives.
This was the case for 14-year-old Fadi, whose family moved to southeast Turkey to escape the ongoing violence in Syria. With his family suffering from ongoing financial difficulties, he began to work with father Hassan in a bakery for up to seven hours a day but he secretly dreamt of returning to school to learn and play with his friends.
"I didn't like working that much, I wanted to go to school," said Fadi. His father Hassan worried about how he and his family were going to make ends meet, and he believed that children should work as soon as they were old enough. But when he enrolled Fadi in a psychosocial support program operated by Concern, one of the facilitators pointed out the importance of education for the young teenager.
"For us, we have always believed that a child can work as soon as he's big enough. We weren't thinking of how the child feels," said Hassan.
Hassan himself also enrolled in a Caregivers Engagement program, a project funded by generous donors such as European Civil Protection and Humanitarian Aid Operations (ECHO) and run by Concern, to address the reasons why up to 40% of Syrian children in Turkey are not attending school.
These reasons can include everything from the need for children to work and support family income, low literacy rates and missed years of education, fear or lack of interest in school and an absence of school transportation services.
As part of the Caregivers course, Syrian families come together to share experiences and discuss how to support their children's development, wellbeing and learning. It has had a huge effect on Hassan and his family, with the father-of-seven revealing that it changed his relationship with his children for the better.
"To be honest, I thought the sessions were going to be empty time, you know. I wanted to work and earn money instead. But the opposite was true, I benefited a lot."
He continued, "I did change my behavior with my children because of the course. When one of them was upset or uncomfortable, I talked to him instead of hitting or shouting, or telling him to go away. You have to understand why he is feeling or acting this way. They are comfortable with me, they feel close to me and come to sit beside me because they are not afraid and they feel I understand them. I take time with them."
Fadi is now excelling in his studies at a Turkish public school, where he says his favorite subjects are math and art. He now dreams of becoming a teacher and Hassan is hugely proud of his progress.
"He has Syrian and Turkish friends, and his Turkish language is excellent - he can even write. I attend all the meetings and events at school, and I talk with his teachers to see how he is doing."
He concluded, "I swear, education is the most important thing. All parents should care about the education of their children. I am not educated. I only reached sixth grade… I can't read or write so I didn't have this idea in the past. But seeing my child learning, it's another world."
Thanks to the extremely generous support of individuals like you, Concern can continue to transform attitudes, and change the course of young lives. Thank you.