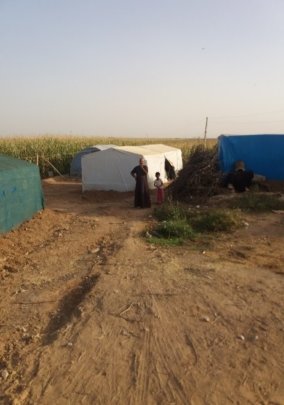 Dear Supporter,
With no end to the crisis in sight, Concern Worldwide continues to help Syrian refugees meet their most urgent needs, and we are so grateful for your generous support which makes this work possible. As part of our response to the Syria Crisis, Concern conducts a protection program in southeastern Turkey which has proved to be critical for refugees living in the region.
According to figures from the Turkish government, as of the beginning of 2017 there were approximately 2.9 million Syrian refugees registered under temporary protection in Turkey. Syrians who have registered with the Turkish government receive a temporary protection status, and can freely benefit from public services including health care, education, and vocational training in the province of their registered residence.
Among the Syrian refugee population in Turkey, there is a wide variety of individuals and households which have unique needs requiring a case management approach. This type of approach is needed when assistance and support is required to help that person navigate the various specialized services to meet their protection needs, in the form of their one-time aid or longer term support. Concern excels at this kind of individualized case management, and we are pleased to share with you a story of one of the beneficiaries of our protection program:
For two years, Rima* has lived in a two-room apartment on a narrow, cobble-stoned street in a city in southeastern Turkey. She shares the space with nine family members: her grandmother and grandfather, her aunt, and her uncle, his wife, and their four children. The meager space and adjustment to a new city and language would be an ample challenge already, but the family has faced much more since they fled their home in Syria.
Rima was born with a ventricular septal defect – a hole in her heart. Overcoming the odds, Rima survived, and her condition remained relatively stable until war came to her district and she and her family were forced to leave Syria. With her health rapidly deteriorating, she saw a Syrian doctor in Turkey who said the solution was surgery – a procedure he couldn't perform because it was complicated and dangerous. While the support offered through the temporary protection status provided through the Turkish Government is generous, the process of obtaining it is rarely simple. Rima tried repeatedly to get a temporary protection ID and was declined each time. Barred from receiving Turkish medical care without this ID, her condition only got worse.
One day, in a hospital waiting room, she was approached by Concern's case manager, who noticed she was pale and unable to walk. Learning of her situation, he took up her case and lobbied the doctor at the hospital to write up her case informally. The case manager then took the health assessment to the directorate general of migration management, hoping they would recognize the dire need for treatment and grant her temporary protection status. The tact worked: Rima was given temporary dispensation to receive a full and official medical report, and then ultimately registered for Temporary Protection. She stayed in a university hospital for 33 days after this, with her aunt and a translator provided by Concern at her side.
Even without these added health expenses, the cost of living in Turkey is more than Rima's family can afford. Rima's uncle works as a casual laborer but has struggled to find consistent employment, and her cousins are too young to work. Were the war to end tomorrow, the family's future would still be uncertain: shortly after they crossed the border, their home was destroyed by a stealth missile.
Yet the family remains incredibly resilient. Concern spoke to Rima and her aunt a few days before they were to travel for the heart surgery that she needs to survive. The trip and the surgery are both supported by Concern's protection program, and if Rima were to be placed in longer term alternative care following the surgery, Concern would also have to arrange accommodation for her aunt. When this was mentioned, Rima's aunt shook her head. She didn't care, she said, where she stayed, as long as Rima could have a translator by her side to explain the procedure. Both Rima and her aunt spoke quietly and deliberately, their bravery made all the more remarkable by a clearheaded acceptance of their current circumstances.
"For every two cases I open, I find eight more," Concern's case manager said, noting that while Rima's family's specific condition is unique, the severity of their needs is sadly not. Out of the 2.9 million registered Syrian refugees in Turkey, over 2 million require basic needs assistance. Thanks to your contributions, Rima and her family, at least, can look ahead towards the possibility of stable and safe life in Turkey.
*Name changed for protection