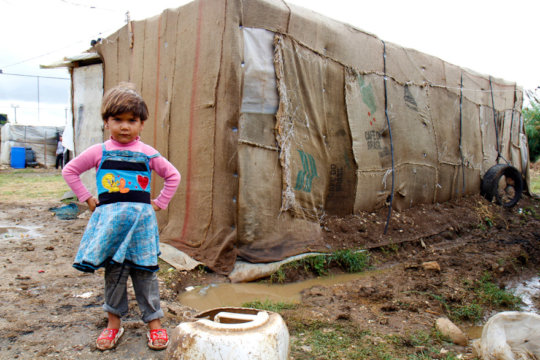 This year marks the tenth anniversary of a crisis in Syria brought on by conflict, mass displacement, civilian casualties, the destruction of infrastructure, and other violations of international humanitarian and human rights laws. While many Syrians wish to return home, the road to getting there is less certain in 2021 than it was at the beginning of the crisis.
Estimates in 2021 indicate that 13.4 million people still living in Syria are in need of humanitarian assistance. An additional 5.5 million Syrian refugees are living in host communities, the majority of which are in neighboring countries such as Turkey, Lebanon, Jordan, Iraq, and Egypt.
Here are some experiences of Syrian refugees from over the last decade, in their own words:
Fatima*, 2018: "I thought we'd be here for just a month. I miss everything. Living in Syria was bounteous. I liked living near my parents and brothers and sisters."
Concern staff spoke to the mother of four in her makeshift home in an informal tented settlement (ITS) in northern Lebanon. After four failed attempts to escape the violence surrounding their village, they were successful.
But refuge came at a cost: as of 2018, her husband and parents were still in their village. In Lebanon, Fatima has struggled to pay rent on a shelter that is in disrepair, with broken boards, infestations of cockroaches, limited water, and winters that are brutal and bitter. Unable to afford the tuition prices, her children remained at home, out of school and with little to do but wait.
Habib*, 2013: "Put yourself in my position: It was because of my family that I came here…In Syria, I was everything…Here, I am nothing."
Sara*, 2013: "The difference is between heaven and hell."
When we spoke to Habib, a father of ten, and Sara in 2013, they were neighbors in Lebanon in the basement of an unfinished concrete building with no running water and intermittent electricity. Nearly one in four people living in Lebanon is now a Syrian refugee and while the generosity shown by host communities has been amazing, it is being seriously stretched. The ongoing consequences of the pandemic, Lebanon's own deepening economic crisis, and last summer's explosion in Beirut have disproportionately affected these populations.
Many refugees living abroad are unable to find steady work, which has made living conditions like Habib's the norm rather than the exception for the last decade.
Samer*, 2013: "I won't go back to school. I have lost my will now after missing it for two years…For my generation and me, the future is not clear."
Samer was only 14 when the conflict started and he was deprived of one his basic human rights: an education. Most Syrians under the age of 18 have grown up with a normalization of conflict, volatility, poverty, and displacement that will impact them for the rest of their lives.
Ahmed*, 2018: "It is so difficult for a person accustomed to the culture and society where I was living to just leave everything and get out…But it was like something imposed on us…I wish I had met you in Syria when we had a normal life there. You would come to Syria as tourists and have fun there, and I would host you at my house."
Concern spoke with Ahmed from a tent he shared with his family. For nearly 20 million Syrians, the last decade has effectively been lost. The stress of living in this situation is almost unimaginable, but there really is no alternative. Still, Ahmed like many of his compatriots, also maintain hope for a better future and an ingrained sense of Syrian hospitality.
.....
While these interviews present insight into the individual stories Concern teams have witnessed and heard over the course of the Syrian conflict, the devastating truth is that they all sound remarkably similar. This underscores the lack of progress on the part of the international community to work towards a lasting peaceful solution and a safe path for those who wish to return.
With help from supporters like you, Concern has been meeting the emergency needs of Syrian refugees – usually in as little as two days for assessment and distribution – and helping them build long-term resilience. From blankets, shelter kits, and food vouchers to gender-based violence prevention, education access, and rehabilitating water systems, Concern programs strive to support refugees holistically. Thank you for making this essential work possible.
*All names changed for security purposes.