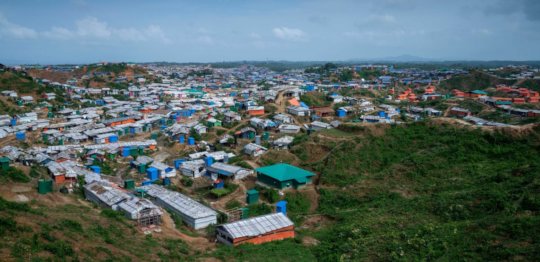 It's been three years since the Rohingya people fled violence and persecution in Rakhine State in Myanmar. Nearly a million refugees now reside in Cox's Bazar in Bangladesh, forming the world's largest refugee camp. Without an end in sight to this situation, here are 5 things to know about the Rohingya crisis as it currently stands at the end of 2020.
1. THIS ISN'T AN ISOLATED CRISIS FOR THE ROHINGYA
The Rohingya are a predominantly minority ethnic group, many of whom have lived in Myanmar's Rakhine State for generations. Without recognition as citizens or permanent residents of the country, the Rohingya have long had limited access to education, jobs, and health services, resulting in chronic poverty and marginalization. Violence targeting the Rohingya in Myanmar over the last several decades has driven hundreds of thousands to neighboring countries, most notably in 1978, 1991-92, and 2016. An escalation in violence in 2017 became the starting point for the latest — and largest — crisis.
2. THE CURRENT CRISIS HAS BECOME MORE COMPLEX — ESPECIALLY WITH COVID-19
The mass exodus of Rohingya refugees into neighboring Bangladesh has developed into a protracted emergency for both refugees and host communities. Most of the camps were built on uneven sandy hills that were rapidly cleared to make way for refugees and services. Over the last three years, these informal settlements have faced the constant threats of flooding, landslides, and shelter collapse.
The main cyclone season begins in April, and previous years have shown us that this the in which the Rohingya are most vulnerable. Beyond shelters facing destruction from high winds, these rainy seasons can also foster waterborne illnesses in crowded camps that don't have proper water and sanitation facilities — posing a particular risk to children and the elderly.
Then, the COVID-19 pandemic reached the camps in the summer of 2020. Quarantines and lockdowns in Bangladesh have made it harder for essential supplies, including food and medical items, to make it into the camps.
3. OVER 100 ORGANIZATIONS ARE RESPONDING TO THE ROHINGYA CRISIS
Concern is one the many non-governmental organizations — both local and international — responding to the influx of Rohingya refugees in Bangladesh. Because we have been in Bangladesh for over 40 years, with both former staff and experience in the Cox's Bazar area, we were one of the first organizations to respond to the crisis there.
Since then, we've maintained a combination of life-saving integrated nutrition support, livelihood development, disaster risk reduction, non-food item distributions, and home gardening initiatives. Our goal, along with many of our partners and humanitarian colleagues, is to help the Rohingya stay healthy, care for their families, and live with as much security and dignity as possible.
4. THE ROHINGYA CRISIS IS ALSO A BANGLADESHI CRISIS
Often underreported in coverage of any refugee crisis is the host community's efforts to maintain their own welfare. The area surrounding Cox's Bazar is a very poor area of Bangladesh with a history of weak service provision. Concern's Country Director in Bangladesh, A.K.M. Musha, points out that local lives have changed significantly since this massive population flow.
"There is huge socio-economic and environmental pressure resulting in increased tension between refugees and the host community," he says. "The tensions will continue to increase unless the host communities are supported well. It's a difficult situation for all."
While the Bangladeshi government has gone to great lengths to accommodate the influx, the impact is being felt as local resources go into the relief effort, prices of goods and services rise, and labor becomes cheaper.
5. THERE'S NO END IN SIGHT
"The Rohingya people don't believe the situation in Myanmar is currently conducive to repatriation. It would be very difficult for people to go back to Myanmar unless the situation improves there," adds Musha.
Despite all this, Concern's Emergency Director in Bangladesh, Heather Macey says thatthemood among the Rohingya communityis one of resilience and defiance.
"They are people before they are refugees. You have doctors and musicians and artists living in these camps. You can't forget that. The people have gone through and survivedso much,"she explained.
"They are the drivers of their own change…The people are not hopeless."
Thank you for your support of Concern's work with both refugees and their host communities to realize this change for a brighter future, together.