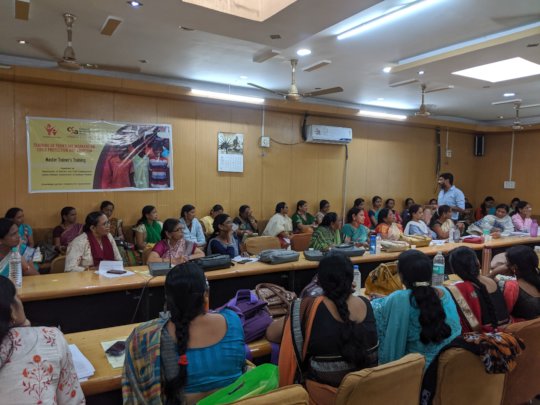 UNICEF estimates that there are close to 30 million children in need of care and protection (CNCP) in India. This includes homeless children, victims of abuse, child labour, trafficked children, orphans, etc. However, only about 1% of these children presently have been identified / rescued and placed in child care institutions as per a 2018 report of the Ministry of Women and Child Development, Government of India. It can be said that 99% of the children continue to be at risk, and could be in urgent need of care and protection. General awareness about the legal process of adoption through CARA (Central Adoption Resource Authority) is also lacking, with only 4027 children being legally adopted in 2018-19.
To address this glaring gap, the Department of Women and Child Development, Indore Division, Madhya Pradesh is partnering with Catalysts for Social Action (CSA) in a pilot project to get 8000 Anganwadi Workers (AWWs) in 8 districts of the Division to conduct a vulnerability mapping exercise with the objective to identify CNCP and report them to appropriate authorities for necessary action. AWWs have been strategically chosen to implement this exercise since they are active at the grassroots and possess family level information, especially in slums, semi urban and rural areas.
As part of the project, the AWWs, their supervisors and CDPOs (Child Development Protection Officer) will first be trained on child rights, made aware of risks and dangers which children face that make them 'children in need of care and protection' as per the Juvenile Justice (Care and Protection) Act, 2015, and the different ways in which the AWW can respond when she finds a child in risk anywhere. They will also be given information on what constitutes illegal adoption, the process of legal adoption through CARA, and other family based care options available for children.
Post training, the AWWs will identify CNCP in their respective locations and submit detailed information in a questionnaire designed for the purpose to their respective supervisors. The Department will analyse the information and take necessary action. Where the need to respond is urgent, the AWW will inform Childline / District Child Protection Officer / Special Juvenile Police Unit for immediate action.
As an outcome of this training and the subsequent vulnerability mapping exercise, it is expected that many children at risk who have been out of the purview of the state protection mechanism will be identified and brought to safety either by way of rescuing them from their situation or counselling their parents / caregivers and following up thereafter. Process will also be carried out to declare children without parental contact legally free for adoption, thereby opening up the possibility of the child for growing up in the care of a family. AWWs will also be able to guide people in their respective areas who want to adopt with the legal process for adoption, and people who may want to surrender their child with the process of safe surrendering.