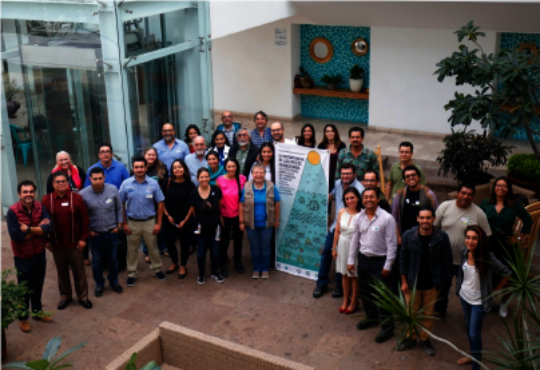 In November in the city of La Paz, Baja California Sur, Mexico, along with our partners from the Universidad Autonoma de Baja California Sur and the NGO Eco-Azul Terrestre, we organized a Forum where members and representatives of research centers, academia, civil society organizations, government and fishermen communities participated in a workshop on the Importance of Herbivorous Fish in Reef Ecosystems of Northwest Mexico.
During the forum, presenters shared information on herbivorous fish and the ecological role they play in the reefs of the Gulf of California. In the region of the American tropics there is a need to improve the regulation of coral reefs and associated species necessary for ecosystem balance. At the present, due to impacts globally (bleaching, ocean acidification) and regionally (physical damage, overfishing, pollution, invasive species, lack of regulation, cumulative and synergistic impacts), coral reefs are classified into critical habitats that could be reduced by 70-90% with the increase of 1.5° C and disappear if we reach 2° C of sea surface temperature.
With this is mind, we analyzed biological monitoring data and fishing capture data with the objective of identifying the best legal tools for the protection and management of essential species for coral reefs communities.
During the forum, representing AIDA, I presented a report that emphasizes the general obligations of countries that are part of international treaties such as the Convention on the Sea, the Convention on Biological Diversity, the American Convention on Human Rights, the World Heritage Sites and Ramsar Conventions. We talk about the needs for regional regulation, comparative law cases and advocacy actions for regulatory improvement in various countries in the region.
It should be noted that the situation facing the Mexican Caribbean region is urgent due to the various impacts that are cumulatively generating degradation effects, resulting in greater loss and a higher number of diseases associated with coral bleaching. We explain how the work of AIDA's attorneys in providing international legal arguments and strategy with regional and local organizations was successful, and as a result, Mexico as a country recently included 10 species of parrot fish in its Official Mexican Standard 059 for the protection of species at risk for the Wider Caribbean region, and that in terms of management, fishing is prohibited within the Mexican Caribbean Biosphere Reserve.
All attendees participated in round tables, question and answer sessions, and discussions on cases and recommendations for next steps. There were multiple objectives defined that need to be addressed, particular needs by area and existing tools that can be used to improve the regulation of herbivorous fish in the region.
Finally, all agreed to continue working towards an outcome on regulatory and sustainable management that promotes the conservation of reef species and habitats in the region. A preliminary report on the work and advances of the group will be produce in mid-2020.