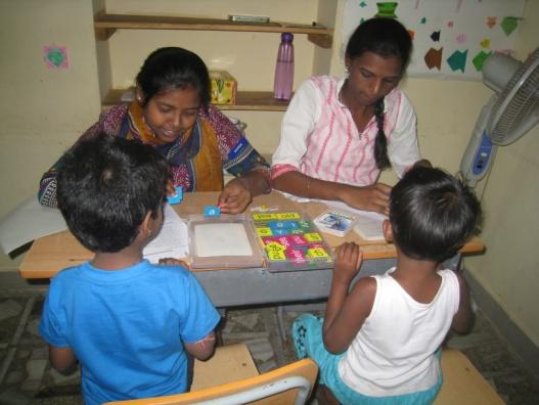 Ashwini Charitable Trust(ACT) has supported for over 500 children in the last 17 years, many of them going on to be be responsible adults with steady jobs.ACT is one of the most transparent and efficiently run social organizations in Bangalore, working towards the end-to-end needs of the underprivileged children, right from early childhood development to english training, from proper nutrition provision to personality development, from livelihoods training to job placements.
At present every child receives different interventions like academic support, Quality health care including vaccinations, Hobby classes and Fun outings, Computer literacy, Financial inclusion by starting savings bank accounts, Mentoring & Counseling.We run After School Centers. We follow the World Health Organization's Community Participatory Model and have for the last 17 years been integrating the under-served into mainstream society. We believe in giving everybody an opportunity.
This quarter we had these activities
Fun Outings
The children of Middle School, High School and College along with their mothers watched Aamir Khan's film, Dangal. All the children were inspired by the sheer determination and focus of the 2 Phogat Sisters and their father's untiring spirit to break away from the shackles of gender role discrimination. For the first time in their lives, the mothers saw a man encouraging women to succeed in the male dominated world that they deal with everyday. We alsohad our Mothers Sports Dayconducted bythe senior children of the Trust, from classes I PUC to III year Degree.They conducted a fun filled Sports Day for their mothers. 75 mothers participated in the sports and encouraged each other to Run the 100 meters dash, or when they pulled with all their strength at the tug-of-war. Lemons and spoons, bursting the Balloon and Musical Chairs were organised. We organized an Excursion to Kokkerebellur and Ranganathittu Bird Sanctuary,Around 45 students, including High School and College going children, were taken on a zoological trip to the nearby sanctuary to understand migratory birds.

Health Camp
Thomson Reuters along with Saral Health and Apollo Hospitals conducted a massive primary health drive for all the children. Every child's Height, Weight, Blood and Urine samples were examined. Every child also got an Eye and Dental checkup. Based on the above all the children got a Health card. Our in-house pediatrician then went through all the Reports and the interventions are underway.

Academic Support
End Term Assessment in English for all the children
All the children who are in Elementary English, Flow of English, Hippocampus English and Reading Club programs undertook an end term exam to gauge their progress for the academic year 2016-17. The test involved real time activities around the language.
Volunteers Meeting
As our academic year ends we usually conduct an Annual Volunteers Meeting. Volunteers are the back bone of our program and those who have completed almost a year of their activities with us, receive a Certificate highlighting their talents. It is also a time when we get one-on-one feedback on each child. The meeting ends with a delicious lunch.
Meghshala Classes
Children of classes 6 and 7 were taught their school syllabus using the Meghashala Classes where lessons are created that empower teachers to facilitate and lead classes effectively.
House of Intelligences Exhibition.
Howard Gardner ofHarvard University has identified 9 distinct Intelligences. Our children exhibited those intelligences in which they are strong. Each room exhibited one intelligence with colourful charts and Fun activities. All the mothers, volunteers and children were able to find their dominant intelligence.
Social Media Seminar
One of our volunteers, Sarah Patel, enlightened our senior children about the Do's and Don'ts of theSocial media like Facebook, Twitter .Instagram and Whatsapp
You, Make this happen….It is with the support of special individuals like yourselves help us keep growing every year.