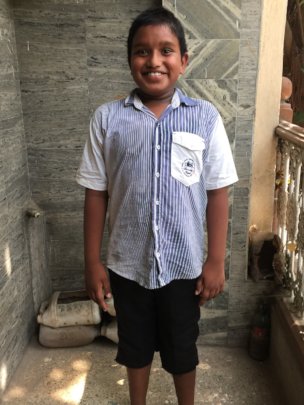 Jeevan started his journey with ACT at the age of 9. He has been promoted to 5th standard and he has been actively taking part in the entire academic as well as the co-curricular activities at ACT. Jeevan belongs to a family of five members who live in a one room house in a slum in Ulsoor which they can barely afford. His father is an auto driver who works with ACT to help with transportation of the children. His mother has to stay at home to take care of his 8 year old sister who was born with mental retardation. He has got an elder brother who studies in 8th standard. The family struggles to live in a single room where they have to cook and sleep as well. They feel that Jeevan has transformed a lot after joining ACT. When everything else adds disappointment and when hope fades at the sight of their disabled daughter, the parents really believe that ACT has helped them to have faith and enabled them to derive happiness from seeing Jeevan doing well.
Activities at a glance:
ACT Summer programs: Summer is at its peak and the students at ACT are busy learning new skills and having unlimited fun. Art, music, yoga, stories, cooking, academics and other skills are being taught to the children by volunteers.
Internships for all children on Videography, Photograpy, Dance ,Drawing and Prezi: 2 Interns from Christ University have taken Prezi presentation classes for the 12th and 1st year degree students. This visual storytelling software helps the children to replace the old traditional slide based presentation formats. 2 more interns are teaching photography and videography, 1 is teaching dance amd 1 more is teaching drawing to younger children and making greeting cards.
House of multiple intelligence exhibition: Every year the senior children at ACT conduct an exhibition based on Howard Gardner's theory of multiple intelligence. The children came up with spectacular ideas and activities which were showcased on a platform where parents as well as the volunteers were able to see their work and appreciate them.
Workshop on decoupage: Decoupage is the art of decorating an object by gluing colored paper cutouts onto it in combination with special paint effects, gold leaf and other decorative elements. The senior children at ACT were trained to do decoupage art on waste bottles and to transform them into beautiful showpieces.
ACT Birthday celebration: ACT has celebrated its 18th anniversary with children, parents as well as the volunteers. It was a huge milestone for ACT as it turned 18 since it began its journey in 2000.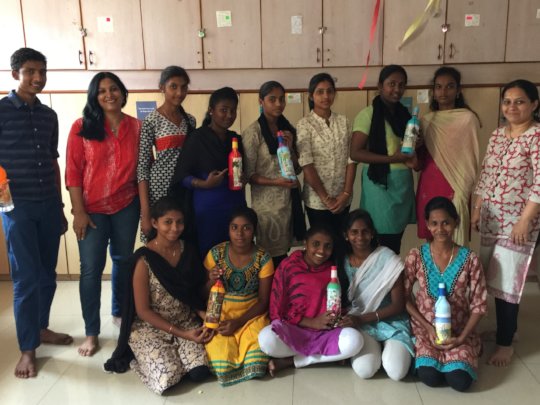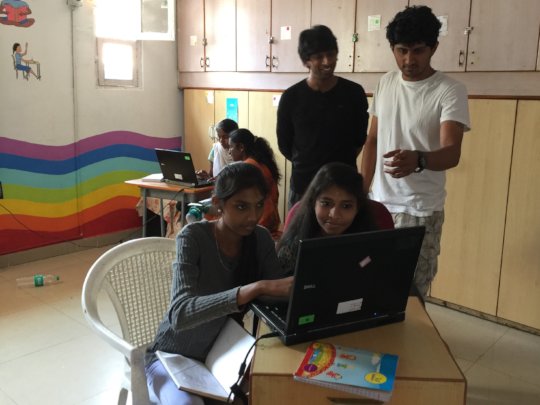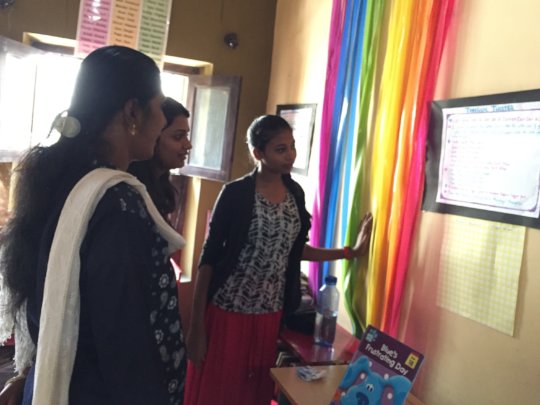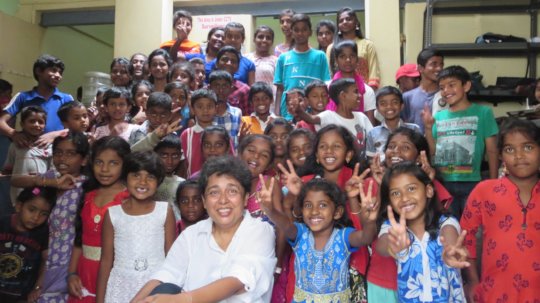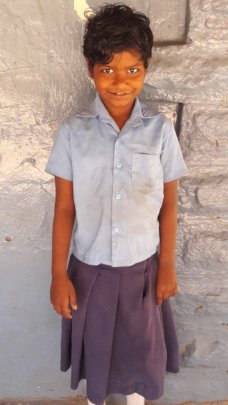 Sandhya studying in class 2 lost her mother few years back,now lives with her grandmother who works as a janitor who is struggling to take care of her grandchildren. Sandhya's father is an alcoholic and does not take care of her. Her elder brother is an auto driver. Sandhya is regular in school and her ambition is to become a teacher. Her favourite subject is Tamil. Sandhya is very energetic and participates in various school games. She is very friendly and has lot of friends in school.
We at ACT are continuously run various extracurricular programs in the school to attract and engage more children.
We provide all the children a daily porridge mix which has all the vital nutrients and vitamins that growing children need, most of whom come without having any food to school.
We have qualified professionals who conduct Saturday Yoga and Sunday Karate classes to improve overall health and concentration powers of the children.
We celebrate birthdays of the children at the end of each month. The children cut a huge cake in front of their friends and eat it in school along with potato chips.
We provide Saturday morning snacks to the children to encourage them to come to school even on Saturday which is a half day.
We have organized Science Exhibition on National Science Day at the school premises. Our science teacher helped them to conduct various practical experiments. Senior children participated in the event with lot of enthusiasm. Students enjoyed a lot and their performance was appreciated. We distributed snacks after the event.
Our regular volunteers conduct Elementary English writing and reading classes for all the children.
We along with a very deicated group of volunteersfrom a comapany Faurecia particiapted in the sarawati puja celebrations and gave motivational speeches to the parents and children and ended the day by the distribution of goodies to all the students.As final year students will be leaving, we have distributed 1 kg cake to all of them as a graduation gift.
We appeal for more funds through global giving, to help Sandhya and children like her so that the poverty stricken parents and their underprivileged children are attracted by the facilities and amenities of the school and come back to school regularly.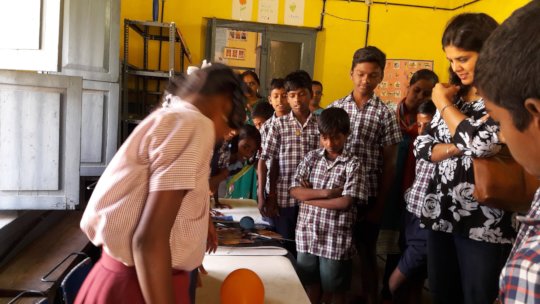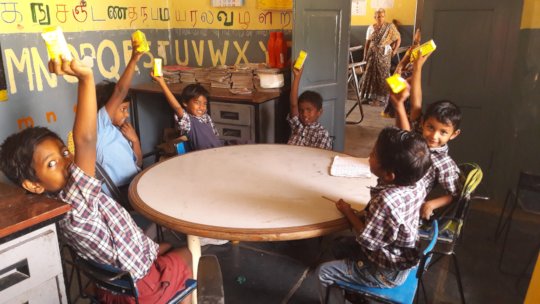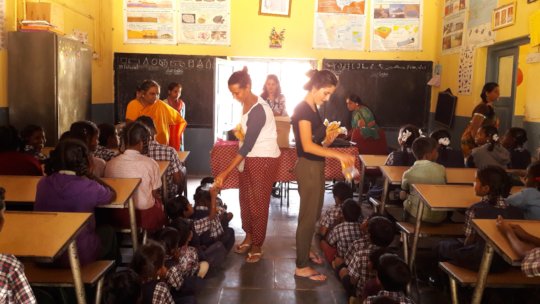 Attachments: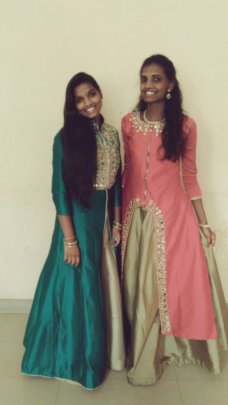 These two sisters have been a part of ACT for almost 13 years, The elder one Nisha (name changed) 22 years passed out recently and is working in a corporate as an accountant. Her sister Nithya (name changed) 20 years is graduating this year finishing her B com in a reputed college in Bangalore. Despite being born into a family with an unemployed father and a mother who works as maid to meet both ends meet, these two girls have challenged their destiny by graduating with flying colors.Nithya remembers being a shy child who had joined ACT when she was in 3rd class. She started learning English and computers after joining ACT. She realized that learning could be creative as well as fun. She remembers the experiential tours she had, extra curricula activities, the mentoring she had got from ACT. ACT has been supporting not only her education, but has also helped her grow to become the enthusiastic, charming young lady she is today. "Hadn't I joined ACT, I wouldn't have been able to complete my graduation", says Nithya.
Activities at a glance:
Fun filledtrip to Mysore- Every alternate year our children are invited to visit the Infosys Mysore campus for 4 days. This year 31 children, 4 Mothers and 3 staff members not only stayed there but were also taken around the campus and were provided first class meals.
Visit to Metro Art Centre- Children were taken to the Metro Art Centre to see some experiments. There were experiments on light pollution. There were other informative shows as well.
Xmas celebration- Christmas was celebrated with the presence of Santa Claus. The kids were so excited to see the shower of snow and candies.
Annual mother's day- We conducted Annual sports day for the mothers. It included all their favorite games. Some of them were Running Race, Relay, Musical Chair, Tug of War and Lemon and Spoon. Our Mothers enjoyed being a part of the sports day
ACT educational tour- The one day tour to Museum, Planetarium and Cubbon Park opened up avenues for experiential learning for the students of ACT Ashwini Charitable Trust extends its hands to educate, support and empower 360 children from 300 families thus helping each child break the cycle of poverty andraise their quality of life thereby transforming their dreams to realities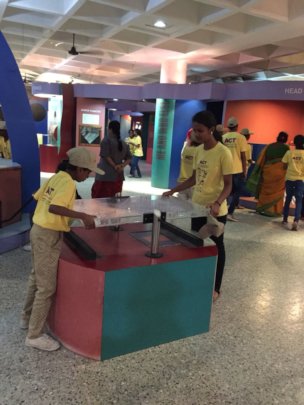 WARNING: Javascript is currently disabled or is not available in your browser. GlobalGiving makes extensive use of Javascript and will not function properly with Javascript disabled.
Please enable Javascript
and refresh this page.