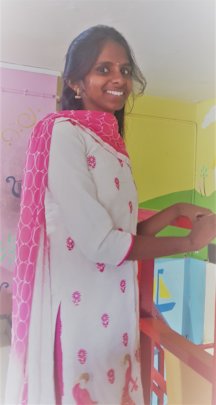 As the schools close and vacation starts, every child rejoices. It is all about freedom, fun and happiness. Here at Ashwini Charitable Trust, this time of the year is more than just that- it is about creativity and making the best out of the time away from school. It is time to keep the books aside and learn how to make a stroke with a brush or to learn a new form of art. The children here come to the center every day to learn a little more, spend their holidays productively and make these days memorable.
To make their holidays memorable and exciting we have taken all the children from class 9 to Graduation to different places of historical importance in Kolar. The objective of the trip was to provide them with an experience of nature and history which they cannot get from classrooms.
It is not just the children we care about; we care about the mothers who work hard to make both ends meet, who allow their children to get the education which was denied to them. 40 mothers were taken on a trip to Talakkad in the month of March. The trip helped them to build closer bonds with others and take a break from their daily chores.
We conducted Sex education classes for all the children of the Trust by Counsellors from Enfold as part of our life skill classes.
A very dedicated volunteer conducts craft classes for the children during the summer holidays.
It is also the time to tell how the children have done all throughout the year. We see them leaving schools and colleges releasing the weight of exams from their shoulders and we see them awaiting and anticipating their results while enjoying their holidays.
As the results are announced, there is one girl who surprises everyone with the success which came out of sheer hard work and nothing else. When the class 12 results are out, she comes through with flying colors by obtaining full marks in Accountancy. With 85% she earned in the subjects; she has made the entire family of Ashwini Charitable Trust proud by securing admission for B Com in one the prestigious colleges in Bangalore.
Shika(name changed) is a very self-driven and competitive student who wants to become a statistics lecturer in future. When asked about what motivated her at the first place to work hard and study well, she said "I was let down by many people in my life, I was made to feel that I was not good enough and that moment I decided to work hard and to never give up until I become something in life".
We continue to celebrate her success as she motivates other children and we proudly call her a role model for others to look up to.