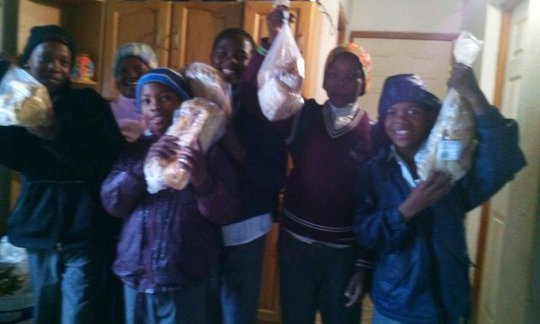 Hello dear friends in America and around the world!
We have had a hard year here at the Second Soup Kitchen which Ndileka has so lovingly created here in Bedford, South Africa in the eastern Cape in the house where Ndileka's mother lived until her death two years ago. Since then almost singlehandedly Ndileka Xameni, who is the founder and director of Siyaphambili Orphans Village outside of Cape Town in the western Cape, has come and recruited volunteers and, with minimal cash, has created a so badly needed soup kitchen in this area.
The kitchen now serves oatmeal to up to 50 school children before school daily, and to another 50 hungry adults, elderly and children daily, and tries to serve a supper of samp and beans or whatever to up to 75-90 people daily. The soup kitchen qualified for free food from the foodbank near Port Elizabeth and volunteers bring that food and use it all. This kitchen is making a big difference for the poorest of the poor.
A fence is much needed to protect the food and the kitchen - estimates show the fence would cost $6,000 and would make a very big difference in food security.
We thank you all and go forward with hope and determination to make this project a full success.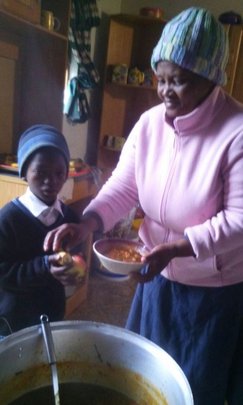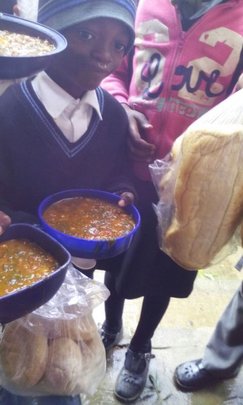 In our second soup kitchen in the very poor township of Bedford, S. Africa, which we set up last year in Ndileka's mother's house, we are now feeding around 85 kids and 65 elderly people every day. This soup kitchen is very helpful in Bedford community as its highest challenge is unemployment and poverty, and there is little money for food, let alone good food. The childrern were doing poorly in school because of hunger, and are now able to focus at school as we have started serving them porridge in the morning as well as the elderly people. This soup kitchen is still very rudimentary as funding has been slow, but we do much with little and hope to keep the program going and even to expand it. It is not in a great area and security is an issue for the pots, pans, cooking gas, and food.
So we are hoping to build a fence around the house, and will need to raise $6,000 for a good fence. We also very much need a used van that can carry food from the foodbank as we now qualify for large quantites of free food but only have buses and unreliable ways to get the food to the soup kitchen. The roads are very rough as this township is not in any suburb. The cost for a van would be about $6,000 for a very used but OK van.
We are doing great work and making school and life possible for the poorest of the poor. We have many siblings who come from homes with only rice and beans a few times a week, if that. Elderly people are not receiving any government help of any kind and more and more are starving or existing on almost nothing. We stretch a dollar into ten dollars and have all volunteers.
With the award of food from the foodbank, we are blessed and ready to do more, but need a fence and a van to be more reliable and safe.
Thanks to the generous donations we have received, our still rudimentary but funcitoning soup kitchen in the Eastern Cape was able to feed a huge crowd for World AIDS Day on 1 December. This would not have been possible even 6 months ago and the pictures attest to satisfied tummies and the gratitude of those whose lives are so devastingly affected by AIDS in S. Africa still in 2014.
We are reaching out and writing grant proposals and have received an award. Life in Bedford is truly hard and we scrap and use every resource we have to feed the many who come daily for a hot meal. We want to do more and use our resources to the best of our abilities.
The attached photos show our work - we eat outside and eat simply, but we are feeding young and growing as well as old and we have become an important resource in the community.
We hope to do much more.
WARNING: Javascript is currently disabled or is not available in your browser. GlobalGiving makes extensive use of Javascript and will not function properly with Javascript disabled.
Please enable Javascript
and refresh this page.