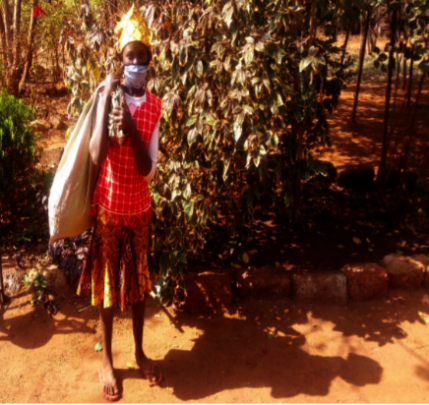 There have been many changes over the year for the students in Makindu. Right now they're facing major challenges. All the kids have been educated on how to stay safe from Covid-19 and the schools are back open. However, due to the schools needing to take precautions, people unable to work and the community struggling financially, the school was unable to get any funding for soap, water, food or any intervention. This means that going back to school isn't that safe for the girls, and we are wanting to help provide the school with funds for essential items like soap, water, food and masks. We are also hoping to keep everyone in good shape and well nourished which is why our other focus is to provide goats to each family. If we can get goats to each family, we can guarantee that the kids will be in good health to continue their education and continue going to school. We are so happy and fortunate to have been able to help slow the spread of Covid-19 for this long. We are hoping that we can continue that along with opening schools. Thank you for your ongoing support.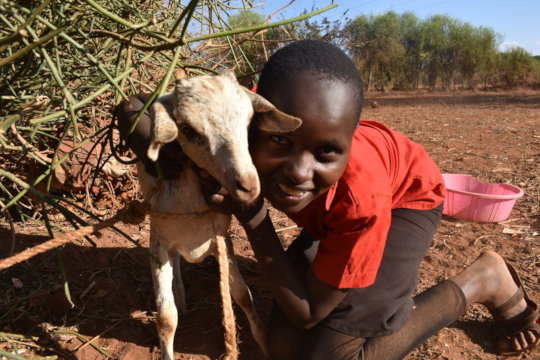 This holiday season, we are hoping to give each of our children living with HIV a goat to help boost their immunity and keep them healthy. With a suppressed immune system, these children desperately need the calcium, protein and other rich nutrients found in goat milk to help maintain healthy nutrition. This proper nutrition then allows the anti-retroviral medications to help the immune system adequately respond to the viruses and ailments that the kids are exposed to. A Galla Goat produces at least a litre of milk a day. This is more than enough for the infected child, and in fact is sufficient for up to four people daily.
The goat will be a pregnant Galla Goat. The Galla goat is an indigenous to Northern Kenya. It is also known as the Boran or Somali goat. It is the milk queen of the Kenyan arid and semi arid areas. The guardian and child will receive husbandry training on how to properly care for the goat. An educational workshop on effective animal husbandry for raising goats will be facilitated by the Kenyan Department of Agriculture (one of the ministers is on the Kenyan Board of Directors for Makindu) to all recipients.
We have utilized the expertise of the Kenyan Department of Agriculture to determine the education necessary for our population to properly care for and breed goats in a humane and sustainable fashion. Our family guardians meet monthly in groups, and the groups will be asked to identify which families need more support with raising, breeding, or tending the goats. The children of MCC and their adult guardians will herd, feed, nuture and milk the goats, giving them skills training and productive activities in their communities. The goat's milk provides necessary nutrition and expands our food support services to the families. Training the local guardians in marketing cheese and excess milk to the neighboring area will helping to sustain the families in this program and provide further self-sufficiency. The local families have identified that goats are more economical at this point to raise than chickens, because the local prices for grain-based poultry food have risen beyond the reach of affordability for our families. Goats are able to forage independently on the natural resources of the area.
Beyond possibly saving the lives of these vulnerable infected kids, providing goats will help establish more nutrition security for everyone in their households as well as increase their self-sufficiency.
$65 buys the gift of nutrition.
$65 buys a goat for a child.
$65 brings joy to a child this holiday season.
All around the world children are not returning to school. That has also been the case for the kids of Makindu and other parts of rural Kenya. The Makindu Children's Centre and school have always been stable and supportive places for them, but now, the kids are always in their crowded homes. The centre has consistently been able to provide food and serve large groups, but now we must deliver food to households to abide by social distancing laws. Delivering food to individual houses costs much more than it did to make one meal a day at the centre for everyone. We are using as many resources as we can to do this as cost effectively as possible but are in need of as many donations as we can get to continue to provide the service of delivering food to individual homes. Please keep in mind, many of these homes are huts without rooms and may house 10 or more people. They're extremely small and not meant to house that many people for a long period of time.
Many of the members in the households have compromised immune systems and in order to keep everyone in the household healthy, they need nutritious meals.
We greatly appreciate any donations to help us continue to deliver goods like maize, beans, milk and rice to keep the community healthy.
Now with the holidays right around the corner, we are preparing to gather Holiday Baskets that will hopefully feed families for several days. At a time with so much uncertainty and extreme fear, we want to make sure we can keep cultural traditions a possiblity for the residents of Makindu. Having tradition and culture increases hope.
Thank you for giving HOPE to the kids.
WARNING: Javascript is currently disabled or is not available in your browser. GlobalGiving makes extensive use of Javascript and will not function properly with Javascript disabled.
Please enable Javascript
and refresh this page.