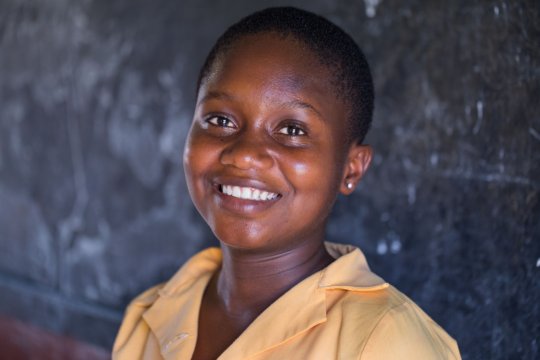 Mobile libraries are on the move in three regions of Ghana, taking solar-powered laptop computers pre-loaded with digital books and educational resources, and modem internet connections, to under-resourced schools to give struggling students hands-on computer classes.
For many of the children this was their first experience of computers.
"This was my first time using a computer - and it was a bit difficult," said Beatrice, a student at Archbishop Amissah Junior High School in Western Region. Beatrice is determined to excel in her computer classes because she wants to be a doctor when she grows up: "Computers will help me with research online, for example, about chemicals," she said.
Another first-time learner is Erica, who is confident that computers will help her in her chosen career: journalism. "As a journalist I will be able to get a lot of information through the internet," she told librarians and teachers.
Celebrations marked the launch of the Hands on computer classes for 1,800 Ghana children project in Ghana's Western, Upper East and Ashanti regions in November. The launch events were attended by children, teachers and headmasters from the 15 schools that will benefit from the project; regional librarians and Ghana Education Service officials.
Addressing delegates in Western Region, Benedicta Aseidu, a manager in the Ghana Education Service, called on children to make full use of the learning opportunity presented by the new public library service: "I expect you to shine, to stand tall among your peers, and let it reflect in your Basic Education Certificate Examination," she said.
Ms Aseidu especially appreciated the educational resources pre-loaded to the laptops. "The material covers almost all school subjects, and there are exam questions for the children to practice," she said.
Ghana Library Authority Executive Director Ofosu Tenkorang commended Western Regional librarians for their commitment and thanked everyone who has contributed to the new service.
The schools close for the Christmas holidays on 17 December, and - thanks to your support - Beatrice, Erica and their classmates will go home happy knowing that from next term they will have regular hands-on computer classes, brought by their regional public library.