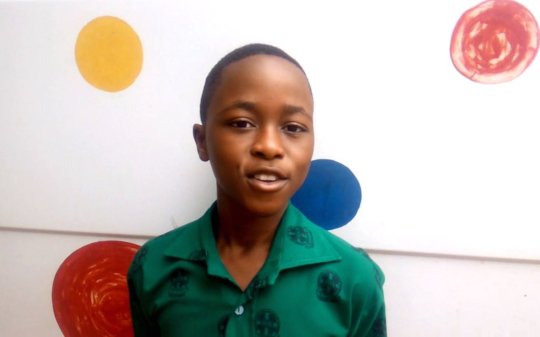 Keyboard skills, word processing, Excel, researching the internet, Google email and games - as 2017 draws to a close, schoolchildren from 17 under-resourced schools in four regions of Ghana listed some of the vital technology skills learnt through the EIFL Hands-on Computer Classes project.
Your support made it possible for us to send US$1,750 to the regional libraries this year, helping them to to teach more children essential practical computer skills. Thank you!
We're happy to share with you results from two of the four regions served by the project: Upper East and Volta, where mobile libraries travelled to 10 schools, reaching 1,417 children. The library vans were packed with solar-charged laptops, modem internet, screens and projectors. The computers were all loaded with content related to school subjects like geography, mathematics, science and English, as well as practice exam questions and other useful and fun learning tools.
In Volta Region, the mobile library conducted practical skills classes in five schools, reaching 562 children (244 boys and 318 girls). The classes were in such high demand that the mobile library continued to visit schools during the holidays.
"My son Emmanuel is so much excited about the computer classes, and his attendance and punctuality at school have improved. I've seen improvement in his ICT grades in class and there is cloud of excitement around him when going to school," said the guardian of a pupil at Kpenoe Ma Junior High School in Volta Region.
In Upper East Region, the mobile library classes reached 855 children (428 boys and 427 girls) in Grades 1, 2, and 3. The two biggest schools were Gaari Gbani Junior High School, where 286 children attended the library's classes, and Tedam Junior High School, where the library taught 240 children. "In these schools it's a challenge. The children are eager to learn and are happy even when sharing the 15 laptops we bring - but ideally, we should have more laptops to improve learning," said the regional librarian.
Over 430 children in the five schools reached in Upper East Region wrote the 2017 Basic Education Certificate Exam B.E.C.E) - the exam that determines progress to secondary school. They have done well: librarians interviewed 80 B.E.C.E. candidates at Gaari Gbani Junior High School, and all had passed.
Your support has made a huge difference to the futures of hundreds of children. Thank you again, and all the best for the holiday season and the New Year!