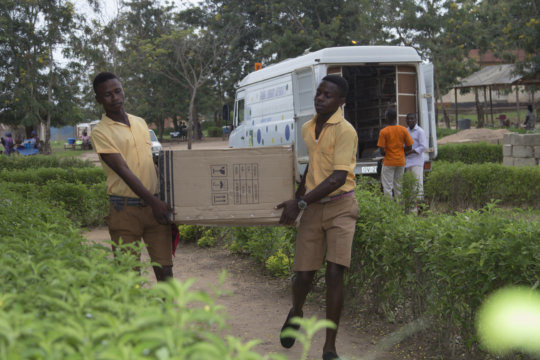 We're crossing our fingers for the children who took their 2016 Basic Education Certificate Examinations (B.E.C.E.) in June. These are the exams that determine whether children attending basic schools in Ghana will progress to secondary school.
This year, thanks to your support, hundreds of children attending 20 schools in four regions of Ghana stand a better chance of passing their exams in Information and Communication Technology (ICT) - one of the eight compulsory subjects of B.E.C.E.
Every week over the past six months, mobile libraries have been travelling to five schools in each region, bringing solar-powered laptops to give the children hands on computer practice. The laptops are pre-loaded with educational content that supports ICT learning and testing.
Just before the exams, we interviewed children at Abountem Junior High School near the town of Kumasi in Ashanti Region.
"Since the computers are here, I feel easy," Esther told us.
Herbert wants to be a doctor one day. He is very aware that he will have to pass the B.E.C.E. to achieve his dream.
"I now feel more confident about doing the B.E.C.E. At first, using computers was difficult for me, but as time goes on it is easier – and I even have a Facebook account," he said.
Teachers have been using the laptops to help the children prepare for their exams. Peter, an ICT teacher since 2007, knows what it is like to teach in a school that has no computers and limited learning materials. "The mobile library van is really helping. For example, it is quite difficult to teach children in abstract a simple subject like e-mailing, but now the children can go online and do it," he said.
Now it is just a matter of waiting for the exam results, which will be released from September 12. Join us in holding thumbs for the children, and stay tuned for our next report, when we will be able to tell you how they fared.