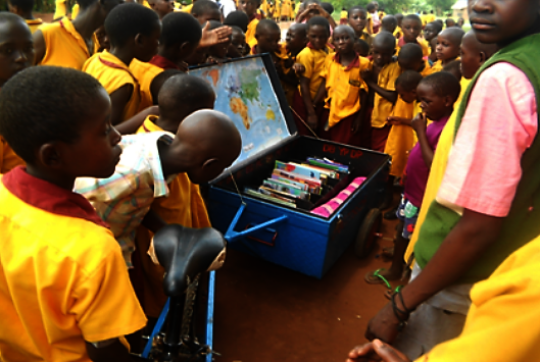 "I am from Igome village in Jinja district in Uganda. I am now aged 15. I started using this library when I was eight years old and it has helped me to develop my reading skills as well as writing. Now I am going to Senior Three this year, 2018.
"I am happy to hear that our library is to receive funds from EIFL to buy new story books. I will always read the interesting stories in these books and learn about our traditional proverbs, culture, and language. I will also use these books to research on different aspects of the past and then relate them to the present situations."
Rose (not her real name) is a regular user of Nambi Sseppuuya Community Resource Centre in Buwenga sub-county in Jinja District, Uganda. With your support, we have raised about US$400 that the library will use to buy over 100 new children's books written by local authors, in local languages.
"When I heard that we could choose the books ourselves, I was so happy," said the librarian. "We receive books from abroad and these are very important. But we do not have many books that are locally written, in our languages, that refer to local culture and places, with local names that the children can recognize."
In keeping with the library's mission, which is to fight poverty and disease through education, the librarians are ordering story books that will encourage reading and build literacy skills, as well as lively, well-illustrated books about nutrition and hygiene. "The books will be read by the children and their parents," said the delighted librarian.
This will be our last disbursement for this project. Since January 2017, your support has made it possible for public libraries serving rural communities in Ethiopia, Kenya and Uganda to buy 2,000 children's books in Amharic, KiSwahili, Acholi and Ateso, as well as English. The project has achieved its goals – stocking public library shelves with new story books by local authors and giving thousands of children in the gift of reading.
Thank you for your support – from the children, their parents and the librarians.
We will not be raising funds for this project any more, but we do have another exciting project in Ghana, where we are supporting mobile public libraries to take computers and internet connections to under-resourced schools to help children pass crucial exams. The project is achieving remarkable results – find out more here! And stay in touch with EIFL through Facebook and Twitter - @EIFLnet.