One of the greatest successes of Riecken Community Libraries is how women develop their emotional skills to get ahead. They strengthen their leadership skills and social commitment as individuals. Teamwork and planning means that they themselves can visualize a future of success. Once women's group is cohesive, libraries begin to promote entrepreneurial ideas and business skills to improve self-esteem, their personal economy and above all, manage their own lives. And, Alliances are the most important strategy for the sustainability of business and women's entrepreneurial efforts.
Gabriela Mistral Library, SAN JUAN CHAMELCO
HEIFER International and the local NGO IEPADES supported the library and its group of women artisans of pine needles to improve the finishes of their products (More than 32 hours of counselling).
Ka´k Nojib´al community library, Xolsacmaljá (Totonicapán)
The library managed to get its group of women was included in the Economic Development Plan of the Commission for Local Economic Development, Tourism and Natural Resources. They also strengthened their learning on "Business Plan and Branding formalization" with support from the Ministry of Economy, HELVETAS and the municipality. This allowed achieving the following advances:
- Advances in the registration of the territorial trademark of "Doña Huevo"
- 6 women egg producers are registered with the Ministry of Agriculture so that they can commercialize the eggs.
- The Alliance with Business Networks for the creation of the Cooperative will be the legal umbrella for the commercialization of the products of the women's group of the library.
Ventanas abiertas al futuro Library, CHICHE
The women's group in the library has received support from INTECAP (Technical and Professional Education Agency), the Peace Corps / USAID and the Ministry of Economy. The group of women have completed a diploma in business, strengthening budgeting skills and business techniques. Likewise, women develop initiatives of embroidery of fabrics and production of food products that support the family economy.
This women's empowerment program is being supported by all "Glogbalgivinners" and BFB Foundation.
The Riecken Guatemala Foundation empowers girls and women through its network of community libraries.
In Guatemala, 55 women have implemented a pilot of Mujeres, manos a la obra. A small step to learn how savings could support the sustainability of their entrepreneurial efforts.
Learn more about the work of the Riecken Foundation and its network of community libraries in Guatemala.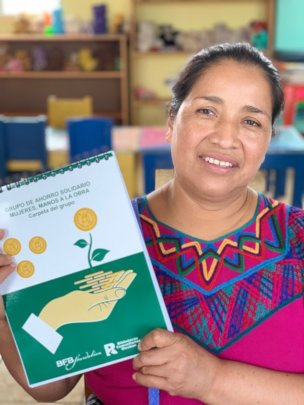 Links: