Marta is in the sixth grade. She is 12 but is the size of an 8 year old due to malnutrition in her earlier years. She lives in the village of San Andreas Osuna, Escuintla, Guatemala. Marta's mother is blind due to having had a tumor removed. Several years ago Marta received nutritional support from a development organization and though Marta is small for her age she is now healthy as she still receives monthly donations of healthy food. Marta also receives support from an American donor to cover her school expenses. Recently, she very proudly displayed her workbooks from school along with various projects. She also had two brand new textbooks, one in math and one in science, which were recently distributed across Guatemala by the government. Marta was very excited that she actually had two books to read. Plans are being discussed to build a library in Marta's village which would give her access to the books that she only dreams about now. With your support soon we will be able expand our Girl Reader program to Marta and her friends in San Andres Osuna. Our goal is to have books in the hands of all of the women and girls in Guatemala one day very soon. Thank you in advance for your help.
Links: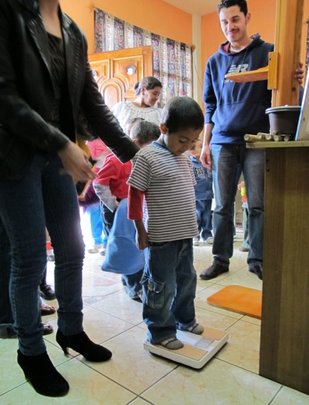 Did you know that universal primary education is one of the Millienium Development Goals? The goal is for every child to have at least a primary education. Early childhood development including teaching sounds, vowels, shapes, numbers and creating a love for reading with story hours, all of which prepares children for success in school. In addition, in our program the parents also learn valuable nutritional information. Try to imagine what ignorance feels like. What if you could not read? How would you learn what was best for your children? Many of the mums in our program are in that situation. They simply do not know that their children need a balanced diet including protein to reach their potential.
We have just launched a second year of our pilot program in the Chiche, Guatemala Riecken library. Thanks go to the Reno Rotary Club (Nevada, USA) which has provided funding for a second year and because of their generosity we are able to double the number of sessions to meet the demand. As mentioned in previous reports other organizations are getting involved. The children are being weighed and measured and the parents are given a card to keep track of their child's progress. While the families were initially reluctant now there is great demand for giving children the best possible start. When this program is fully funded we plan to expand to other libraries. You can help us to accomplish that goal. We thank you in advance for your help.
Links:
As we have a ways to go on funding this project books are still being delivered by horseback and four-wheel drive to our more remote locations in Honduras. There has been a lot of bad news out of Honduras lately. Some have called it the most dangerous country on the planet, perhaps a failed state. All the better reason to increase efforts to give some hope to the many wonderful people who just happen to live there. The kids pictured below are in kindergarten in the Chorti village of San Rafael. Their books come from the Riecken library in Copan Ruinas. Riecken volunteers do story hours for the children. They talk about the stories and have the children do drawings about the stories and color them. With a fully stocked bibliobus we could take many more books to the children in this community. We could offer them hope for a brighter future.
Links:
WARNING: Javascript is currently disabled or is not available in your browser. GlobalGiving makes extensive use of Javascript and will not function properly with Javascript disabled.
Please enable Javascript
and refresh this page.