During a recent visit to Honduras hiking was necessary as the mostly dirt path had had some fresh cement added to its most challenging places. At the end of our hike was an eager group of youngsters waiting for their story hour. A small collection is moved from the central library in Copán Ruinas to ten different "mobile" libraries in indigenous Chorti communities accessible only by four-wheel drive, foot or horseback. Lacking our bibliobus means that each library has a very small selection of books at any one time. However, having just a few books has changed the lives of many of the young people in these villages. They have learned to read and have learned that there is access to information just a 90-minute walk down the hill into town. Students who are pursuing their education past the 6th grade make that walk twice a day. Raul, age 23, is very proud that he is now in middle school. He volunteers his spare time reading to kids and helping to move the books from library to library. With your help we could have a well-equipped "bibliobus" that could serve these communities much more efficiently and given them greater access to not only books but also technology. Muchas gracias.
Links:
As 2012 comes to a end help us bring this project to a close so that we can start another one. A little more than $1800 is all we need to get a few more books into the hands of eager female readers. Astrid, one of our young girl readers, is now in an international school in Guatemala on a scholarship and is asking in English for explanations about taxes, poverty and corruption. Yes, Astrid! So, you see what we can do for impoverished girls in Central America with your help.
We start with story hours then book clubs. Reading gives young girls confidence. This weekend we are delivering a load of books to one of our libraries. After a two hour drive the books will go into a boat for a 45-minute boat ride and then arrive at the library via a tuk tuk. Long journey but there are lots of girls waiting eagerly for the new books. Once the girls gain the reading habit then they are onto computers where the sky is the limit. Thanks you so much for all of your contributions and hopefully you can give these girls a little bit more.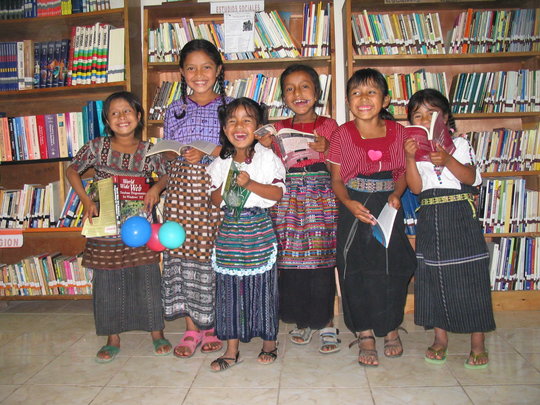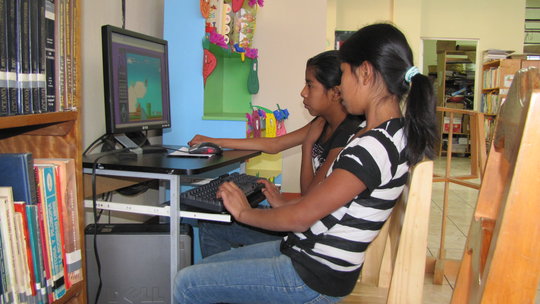 Links:
We are making a year-end push for this project to be able to expand it in 2013. It is a very successful pilot project that we hope, very soon, will get picked up by institutional donors so that we might offer it to many more Central American families. If you have any doubts about the importance of early childhood stimulation I hope that you will take the time to watch this TED talk video on YouTube. http://youtu.be/ozNo1tSARh8. At this writing Alba is conducting two completely full sessions each week. Due to the small size of her library she has to lock the doors to other would be library users for the duration of the early childhood sessions. People in Alba's community write and tell us that she is the "soul" of their little library and that the library is the soul of the community, that it is giving a community that suffered mightily during the 36-year civil war some hope for the future. Children are the future and the hope of this and every other community. We are very grateful for your donations to date and are very hopeful as 2012 comes to a close that you might give just a little bit more to ensure that this program continues and expands too. Muchas gracias.
Links:
WARNING: Javascript is currently disabled or is not available in your browser. GlobalGiving makes extensive use of Javascript and will not function properly with Javascript disabled.
Please enable Javascript
and refresh this page.