Indigenous women who participate in our Maternal Infant Health Program receive an educational workshop every month. During 2011 alone, we have covered the following themes;
Importance of Pre-natal care
Danger signs during pregnancy
The benefits of Vitamin A and C
Family Planning Methods
Personal and Home Hygiene
Women's Social Participation
It is good to see that the women share their own experiences and also ask questions on issues that many times are 'tabu' in the community.They have established a relationship of confidence with 'Chonita' the Coordinator of the Program which is much needed in order for the program to function well.
We also had a local volunteer for three months, Vilma, who helped us perform a 'social interview' with the women as well as a general diagnoses of the Maternal Infant Health Program. Vilma, who is finishing her degree in Social Work was able to see first hand the many needs of the families in the program which are representative of the many issues that poor mayanTtz'utujiil families daily face in Santiago Atitlan, Guatemala.
Links: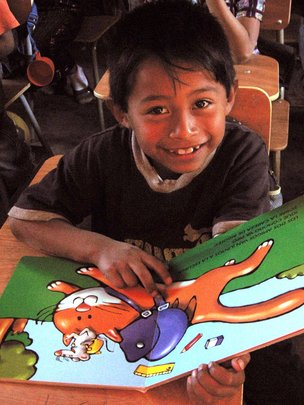 I'm so happy to see the progress we've made with the children from Chukmuk. Even though we are still in a small, temporary library location, we're achieving our goals of getting the children involved with reading with activities such as "hora de cuento" (story hour). They love it! At every new session, the children are participating more and asking lots of questions about the stories we're reading. Their interest in books is growing and growing, and I'm really excited that we will soon be moving the library to its permanent location.
When we first started story hour, the children rarely interacted with us at all. Because so few books are available to them, the children of Chuk Muk are simply not accustomed to having stories read to them, so they were a bit astonished. Now they're becoming involved in the stories, and before the end of each session they always ask, "Cuándo será nuevamente la hora de cuento?" (When will we have story hour next?)
One big benefit of the story sessions and the children's contact with books is how it is raising their self esteem. They are overcoming their inhibitions to formulate questions and speak up. This is especially important in a Mayan community that had been repressed for so long due to a harsh civil war that only ended in 1996.
Once I heard a quote that said, "Books are dangerous, they make you think!" I love being able to give the children of my community access to books and the incentive to think.
There are 260 children enrolled in the Panabaj Elementary School this year, all of whom are benefiting from the 2011 School Lunch Program thanks to continued donations. The students are in school from 8am until 12:30 and many of them don't have breakfast before going to school. Without the lunch program, children who are lucky enough to have a couple of quetzales ($0.25) would be buying snacks with little to no nutritional value while those without any money would simply go without anything.
Instead all of the children at the school can now depend on a nutritious hot meal to help them concentrate on their studies and contribute towards their healthy development. With your continued support, Pueblo a Pueblo is seeking to provide the same service of a reliable hot meal to the other three elementary schools in which we have school gardens. With these two complementary projects, students will gain firsthand knowledge of the basics of growing food and nutrition while being guaranteed a hot, healthy meal that incorporates the garden harvests.
Links:
WARNING: Javascript is currently disabled or is not available in your browser. GlobalGiving makes extensive use of Javascript and will not function properly with Javascript disabled.
Please enable Javascript
and refresh this page.