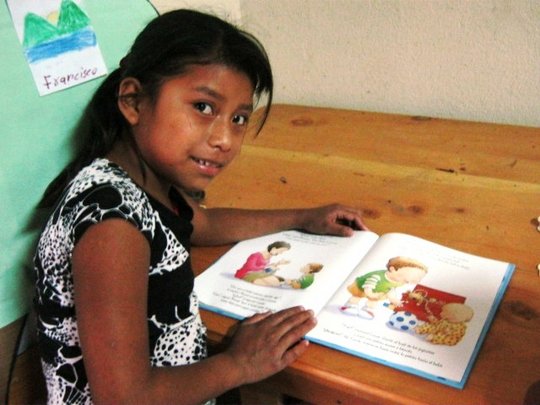 The Chukmuk children attendance to literacy activities at the Library is growing. Their interest has been awaken with the activities done in June.
In July our theme was 'Nature' and through activities linked to four children's books we learned about how to best care for our mother earth.
The first book was 'El Arbol generoso' (The generous tree) and on that library session each child thanked the flowers, the trees and our beautiful lake for everything they give us.
The second book was 'Siembra una semilla' (Plant a seed) and guess what! each child made their own seed pot with recycled paper and planted a sunflower seed!
After watering the seeds and give them love for a whole week…. they came out!
With the third book (El loro tico tango) we experimented and learned how to write rhymes. It was the first try ever for most of the children so it was difficult!
And after reading 'El bosque tropical' (The tropical forest) we had to join letters and create animal names without orthographical mistakes...
Even though we are still on a temporary space we continue working to bring books to the life of children in Chukmuk and to awaken their interest for reading, widening their imagination and knowledge.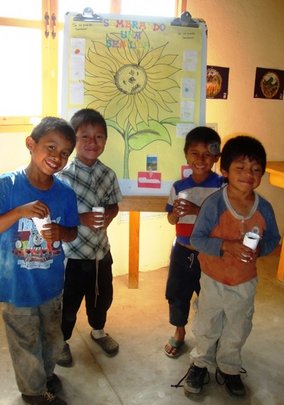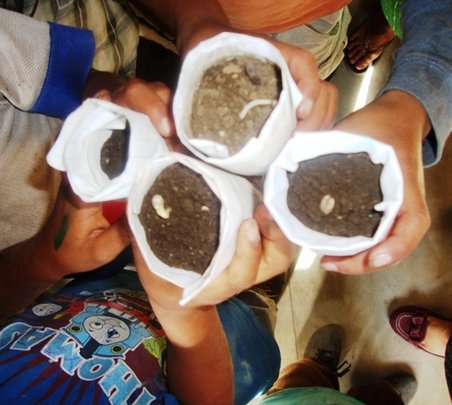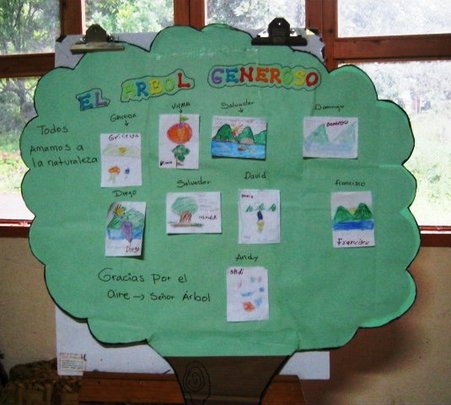 The Pueblo a Pueblo School Lunch Project has expanded this year from one to three schools in the Santiago Atitlan region of Guatemala. Now a daily hot lunch is provided to nearly 600 students in the schools of Panabaj (262 students), Chacaya (134) and La Cumbre (160). Students are benefiting from lunches including meat, vegetables, and beans, which provide important nutritional benefits not otherwise available to them at home. In the coming year, and with your support, Pueblo a Pueblo hopes to expand our program to provide valuable nutritional lunches in an additional two schools, contributing to increases in health as well as academic performance and attendance.
Indigenous women who participate in our Maternal Infant Health Program receive an educational workshop every month. During 2011 alone, we have covered the following themes;
Importance of Pre-natal care
Danger signs during pregnancy
The benefits of Vitamin A and C
Family Planning Methods
Personal and Home Hygiene
Women's Social Participation
It is good to see that the women share their own experiences and also ask questions on issues that many times are 'tabu' in the community.They have established a relationship of confidence with 'Chonita' the Coordinator of the Program which is much needed in order for the program to function well.
We also had a local volunteer for three months, Vilma, who helped us perform a 'social interview' with the women as well as a general diagnoses of the Maternal Infant Health Program. Vilma, who is finishing her degree in Social Work was able to see first hand the many needs of the families in the program which are representative of the many issues that poor mayanTtz'utujiil families daily face in Santiago Atitlan, Guatemala.
Links:
WARNING: Javascript is currently disabled or is not available in your browser. GlobalGiving makes extensive use of Javascript and will not function properly with Javascript disabled.
Please enable Javascript
and refresh this page.