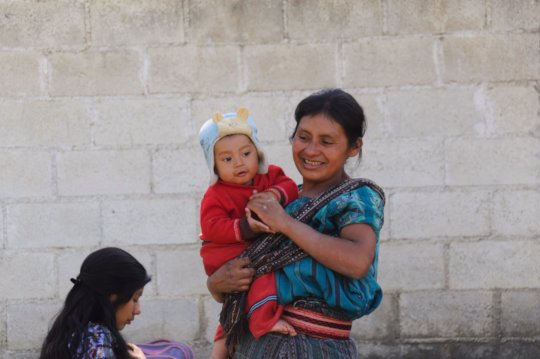 One of the key elements of the Maternal Child Health project at Pueblo a Pueblo is health education. Our team of educators leads monthly workshops to introduce project participants to new ideas and strategies related to health literacy and self-advocacy, empowering them to better care for themselves and their children. Family planning is one of the topics covered in these workshops, and when sponsored women turn this new knowledge into action, it often changes their lives in meaningful ways.
Concepción is a mother of six. With little support from her husband, who suffers from alcoholism, she often struggles to provide for her children. She joined the Maternal Child Health project in 2017 just before the birth of her son Juan. She was introduced to family planning methods when she started attending project workshops—but despite this new knowledge, she became pregnant again a year later.
Maternal Child Health project coordinator Rebeca Sosóf brought this up with Concepción during a check-in meeting last year. "We're not trying to impart that having children is a bad thing," she told Concepción. "However, family planning methods can help you provide for your children by considering your family's situation in choosing the best time to have another child."
Shortly after that meeting, Concepción began to use a family planning method. During last month's check-in, she explained why she had been reluctant at first. "I didn't understand what family planning had to do with my life," she told Rebeca. "I didn't understand that in order to take care of my children, I have to take care of myself, too." Rebeca was glad to see Concepción take this step. "We'll be here to support Concepción as she continues to advocate for her own well-being," she said.
Dolores wrapped up her time with the Maternal Child Health project in March of this year when her daughter Jennifer turned 5 years old. When she met with Rebeca for her final check-in, Dolores expressed thanks for the knowledge she gained from the project workshops. "I learned so many things that I wouldn't have learned just staying at home," she said.
Dolores told Rebeca that in January, she and her husband sat down to discuss their plans for the future and decided that they should begin to use a family planning method. She had not used a method before this year, she explained. "But after that conversation I was able to use the new knowledge I gained through the project to pick the best method for me." Dolores and her husband then decided to begin a project they'd been considering for a while: building a new bathroom in their home! Now that Dolores has taken control of spacing her pregnancies by using a family planning method, the couple feels more confident in their ability to save up bit by bit until the project is complete.
"Family planning can bring long-lasting change to the lives of women," says Rebeca, "especially women who live in rural and low-resource settings." The stories of Concepción and Dolores are examples of the power of education to empower women and their families. Your support fuels their success—thank you for believing in Concepción, Dolores, and all the women of the Maternal Child Health project!
Links: