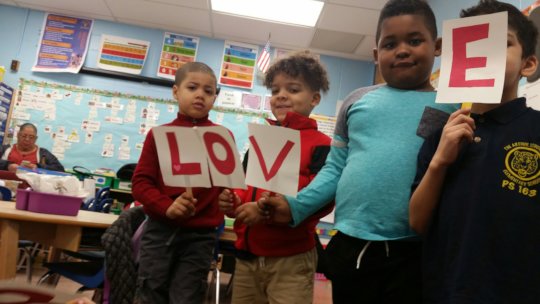 The school year is coming to a close, and we are so excited to tell you about everything that has happened so far this year! Thanks to your support, Arts For All has been able to develop exciting new arts residencies, partnerships, and showcases - all while continuing to provide free arts programming to over 3,000 children in New York City.
This semester, Arts For All partnered with Fil Doux Textiles to create a series of unique textiles-based arts workshops integrated into their classroom activities. In one class, students used donated fabric to create frames for photos they had taken earlier in the year. In another, students are combining fabric work with their social studies lessons on different world cultures.
Long time Arts For All partner Incarnation Children's Center is continuing to see success with the Video Creation Project. This year, students have created two cooking shows, a makeup tutorial, a narrated short about fish in a tank, and an interview series on happiness. Students at ICC have enjoyed this program so much that they are now adding two brand new Arts For All residencies on creating stop motion animation.
At PS76, students in our Artistic Residency Program were invited to visit the Center for Italian Modern Art. This fieldtrip was complimented by a workshop on still life painting lead by Arts For All teaching artist Ciara Ruddock.
And throughout the semester, students in Arts For All programs across NYC have had the opportunity to share their work with family and friends at both public and in-school visual art showcases, dance and theatre performances, and more.
In their short film Happiness, created as part of the Video Creation Project, students at ICC interviewed teachers, staff, and other students; asking what others can do in order to be more happy. One student responded, "Open your mind. If you don't open your mind, how are you going to fit space to be happy?" Thanks to your support, Arts For All is able to continue providing NYC youth the opportunity to open their minds and find happiness through the arts, and we sincerely thank you!