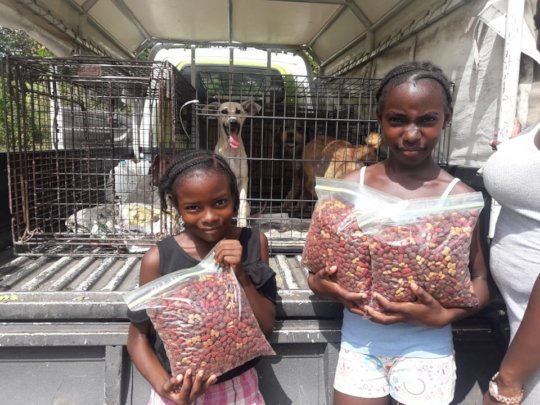 Thank you for supporting Baark!'s COVID PLEA! Our project has been fully funded thanks to your support. These funds were vital in keeping our programs going.
September and October (to date) have been filled with lots of successes and we have helped many dogs and cats. Our hotline has been ringing constantly with spay and neuter requests, and our 2 vehicles have been out on the streets collecting dogs and cats to be spayed or neutered and then returned.
As part of our COVID plea, IFAW pledged and donated $10,000 - $3,000 of which is to be used towards food assistance so we have also been distributing much-needed food in the communities we have been working in for spay and neuter.
One of the areas we have been working in since April 2020 is the Bain and Grant's Town area between East Street and Market Street. As a result of our work, we connected with the Member of Parliament, Mr. Travis Robinson.
On October 5th, Baark was honored to be invited by Travis Robinson MP to attend a historic event, the launch ceremony of the Bahamas' first Virtual Community School for Bain and Grants Town as part of the Ministry of Education's Virtual Learning Platform. The newly created Graycliff Campus comprises of a socially distanced classroom, complete with perspex screens and every resource needed for the students' virtual learning experience including tablets and notebooks. This is all being made possible by the Garzaroli Family, owners of the Graycliff Hotel and Restaurant. The 72 students enrolled in the program will attend in small groups, alternating with their own school classrooms, and will even be enrolled in a learn to swim program in a pool on the premises.
This was a great opportunity for us to introduce our new Baark! coloring book, which incorporates a story written by our Education Coordinator, Shelley Hardman, and mirrors the education program we take to Primary Schools in the Bahamas. With the challenges that COVID-19 has presented, the coloring book is a way to reach more children and communicate our message about spaying and neutering, dog safety and responsible pet ownership in a safe and efficient way. The book also has an important section on Hurricane Preparedness for Pet owners, an issue that Baark realized needed to be addressed after our rescue work in the aftermath of Hurricane Dorian in 2019.
All of us at Baark! feel that despite it being a challenging time, working together with local pet food distributors, local community leaders and so many wonderful people like yourselves, we are able to make a positive difference, one dog or cat at a time.
Please continue to support our efforts!