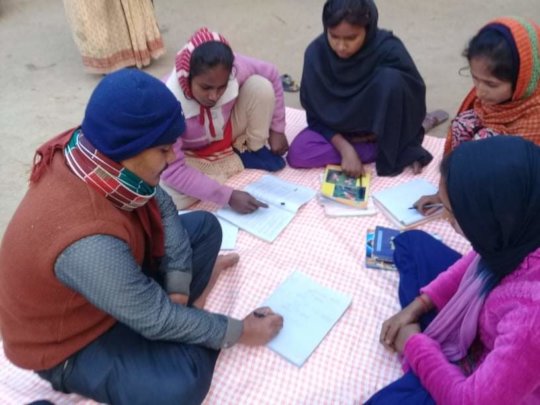 The report covers the following activities- merging of the two girls' education projects, the girl's club, the extra tuition classes, the study support materials and the financial.
'The Girls' Higher Education Project' has been merged with 'The Girls' Education Project' because the Nepalese government has changed the education policy and the 10+2 (intermediate) courses are under the compulsory higher secondary education scheme. Now, the 10+2 courses will be taught in secondary school as well as in the collages. It will be easier for us to manage the project. Hopefully, the course fees will be cheaper for the 10+2 students in the coming days.
We are delighted to announce that a Girl's Club in Bhagawatpur has been established for the empowerment of girls in the communities. The club has five committee members including of the head of the jurisdiction of the municipality, part-time staff and twenty-five members. The committee will monitor the club activities and advice accordingly. The main objectives of the club are to raise awareness about the educational rights of children in the communities, advocate them so that they will have an enabling environment to become what they want to be and, create an opportunity to learn life-long skills. The staff and members will have a regular monthly meeting as well as a help desk to deal with urgencies.
We have hired three teachers (Maths, Nepali and English) to provide additional classes to the girls so that they can obtain a better result in the final exam. All the girls in the scheme are from poor and Dalit families, and they are not supervised at home. Consequently, they don't get a good result in the final exams and, without it they can't study further. We are hopeful that the girls will benefit from the class significantly.
Seventy-seven per cent of the girls in the scheme have a satisfactory school attendance, and twenty per cent have an average in the quarter. Similarly, four hundred and thirty-seven notebooks, two hundred and eighty-five pens and six bicycles have provided to the girls in the quarter.
Four staff has been working to manage the projects, and so far £4,825 pounds have been expended on both projects. The spending includes staff salary, tuition fees, study support materials, bicycles and others.
The annual Curry and Beer event- every year we organise a curry and beer event to raise funds to support the project. But this year, we have decided to do it differently- we are requesting our supporters to cook curry at their own home, invite friends and collect donations to support the project. We are here to help you in the planning of the event, so if you think that you can do it, then please contact me by email- krit.sharma@nvf.org.uk
Best wishes
Krit Sharma
Nepal Village Foundation