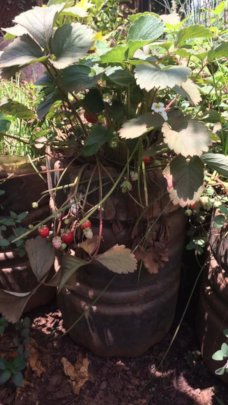 Self-watering planters are a great way to grow a single, healthy plant efficiently while conserving water and minimizing the growing space needed. They provide a constant supply of water so the plant does not get stressed by constantly fluctuating between dry and drenched. The cotton wick allows the plant to wrap its roots around it and use it as a straw, allowing the plant to absorb as much or as little water as it wants. As they are stand-alone planters, weeding is almost nonexistent, and the planters can stand independently- or many of them can be bunched together.
Plants we've grown successfully in them include strawberries, oregano, thyme, basil, tomatoes, sage, cucumbers, kiwano melons, and tarragon.
For our self-watering planters, we use 5 gallon (non-reusable) Rwenzori water bottles. We cut them in half just above the mid line. The top section is inverted with a long wick of cotton (we use t-Shirt fabric) extending from the top half to the bottom of the lower half then the two halves are combined. Soil is then poured into the top half and packed around the cotton wick, and a seedling is planted in the center. A hole is punched on the side of the bottom water receptacle even with or near the end of the inverted bottle spout. This allows excess water to drain out so the plant does not get water-logged. Fill the lower receptacle with water and WHALLAH! A self-watering planter.
We have these planters at the farm, teach villagers to make them, and I even have a few at my home. There are a few plants that do not like the planters. They are not effective for growing root crops, plants that grow very tall, or plants with a an extremely shallow root system.
All in all, self-watering planters are a great way to beat the hot African sun, conserve water, and have fresh herbs, berries, and veggies all year long.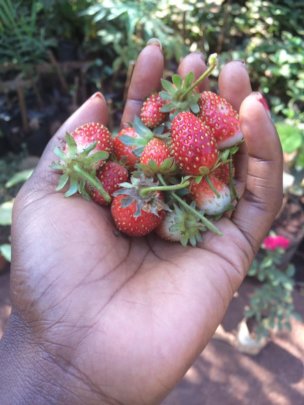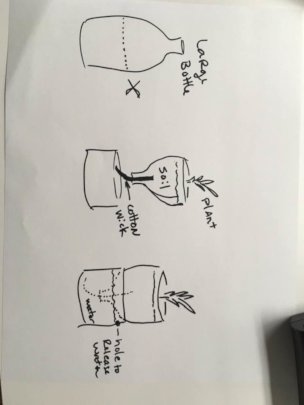 Links: