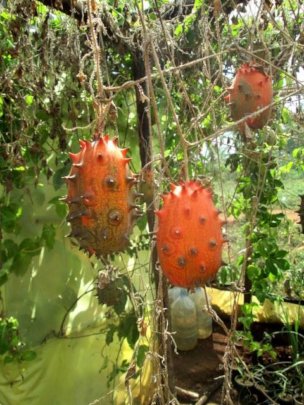 One of the things I love most about Africa is the abundance of interesting and unique fruits available. One of which is the Kiwano Melon, also known as African Horned Mellon, and Bush Cucumber.
The kiwano melon grows freely in Northern Uganda where the temperature is typically hot and dry. We decided to cultivate the seeds and grow them in the southern Region which is a more tropical atmosphere.
The good part is that being so close to Kampala we are able to bring the fruits to the farmers market where they fetch a price of about $0.70 cents each, which is pretty awesome considering that in Uganda they previously had basically no monetary value! As they are covered in spikes, they are somewhat difficult to transport, which is another benefit of our famers living so close to Kampala.
In addition to their awesome appearance and high price for our farmers, kiwano melons are packed full of iron, vitamin C, antioxidants, and other beneficial vitamins and nutrients. Their taste is rather bland compared to their colorful coating. But they are healthy, and definitely one of our most interesting crops we have started cultivating!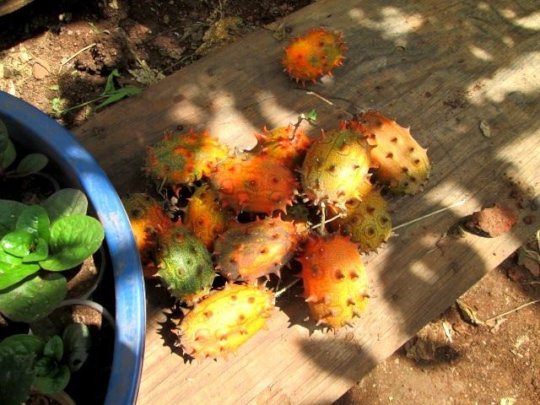 Links: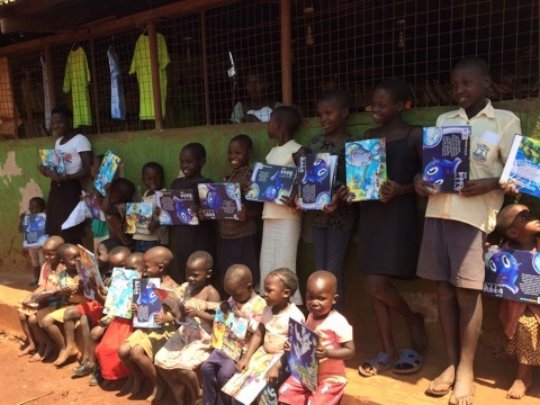 We had another visit from one of our sponsors NITEO Africa Society! We are always super excited to host them and show off our libraries and how their contributions are helping change the lives of these children.
Fortunately they brought us a few more books. This is imperative as thousands of tiny fingers tend to destroy their favorite books after a couple years. We should have more books coming in the future as well when another shipping container of books arrives in Uganda.
Overall, we are extremely thankful for Niteo's partnership and contribution, and for the love and support from donors like you. With your help you have put books into the hands of hundreds of children, and you have helped open up their worlds.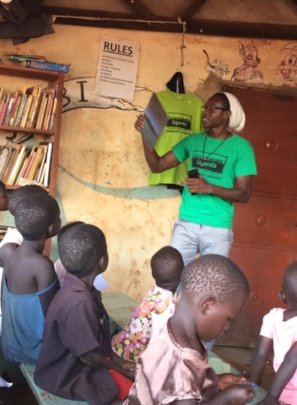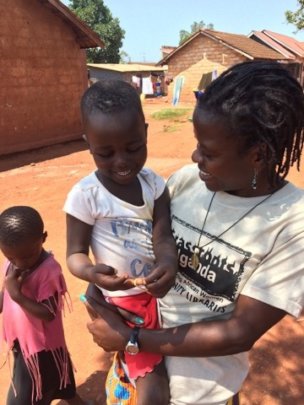 Links:
For the past several years, Mrs. Carey – a Grassroots Uganda supporter and middle school teacher at Three Forks Public School - has put a penny jar out in her classroom. Over the course of the year the kids throw extra pennies into the jar and at the end of the year the pennies are added up and donated to one of our projects.
As this was Mrs. Carey's last year of teaching before retirement, she had been crazy busy and never put out her penny jar. Awesomely, on the last day of school the kids brought a jar up to her full of pennies! The kids realized the jar was never put out and instead of talking to her about it- they just put out their own jar!!! The kids raised the money in spare pennies at their own initiative. We are extremely proud and impressed by these kid's dedication and go-getter attitude!
To all the parents and teachers of these amazing kids- you've done well. With your ongoing love and support the hopeless are hopeful, and the future for this next generation is looking pretty bright.
WARNING: Javascript is currently disabled or is not available in your browser. GlobalGiving makes extensive use of Javascript and will not function properly with Javascript disabled.
Please enable Javascript
and refresh this page.